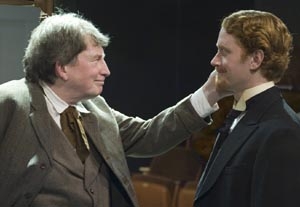 As I left the Metropolitan Playhouse after seeing David Belasco's 99-year-old melodrama "The Return of Peter Grimm," a slight riff on a Shakespeare line popped into my head: Who would have thought the old form to have had so much blood in it? Director Alex Roe has brought this 1911 Broadway hit to vivid life by treating it with scrupulous sincerity, restoring it with the same loving care one hopes is currently being given by the Shubert Organization to the Belasco Theatre, in which it debuted. The Bishop of Broadway's passion, sentiment, and humor blaze anew in this canny vest-pocket production.
The prosperous owner of botanical gardens in upstate New York, childless bachelor Peter Grimm looks to honor his Dutch ancestors by securing the future of the family business through the marriage of his ward, Catherine, to his nephew Frederik. What he doesn't know is that Catherine prefers James, Grimm's secretary and son of one of his gardeners. He also doesn't know that due to an untreatable heart valve problem, he's soon to depart this world after 60 years. That's because the good Dr. Macpherson has kept it from him. Just as Grimm maneuvers Catherine into accepting Frederik's hand in marriage, he dies. Her unhappiness calls her guardian's spirit back, and he soon learns that the supposedly dutiful and loving Frederik is a manipulating fraud who intends to sell the business and spend the fortune. As no one can see or hear him, Grimm's ghost struggles to find a way to prevent the marriage. His savior may be 8-year-old Willem, his housekeeper's grandson, a frail lad with whom Grimm has always been close. Will Grimm reach Willem? And if he does, will anyone believe the boy? It's a fine kettle of pickled herring.
Without a Grimm, that's exactly what the evening would be. Fortunately, Roe has the terrific Frank Anderson, whose commanding performance as the merchant effortlessly mixes stubbornness, charm, eccentricity, willfulness, longing, and sentimentality. Anderson is grandly effective in an accusatory scene with Frederik, in which Grimm's ghost thunders to be heard. Ken Ferrigni humanizes the villainous nephew just enough to avoid mustache twirling, doing very well by his outburst at the hypocrisies he has had to endure to gain his inheritance. Brad Fraizer's simple, plainspoken James is wisely and attractively understated.
As the object of their affections, Helen Highfield focuses on Catherine's love for her guardian, making her sacrifice of her future happiness completely believable, then is equally convincing with her character's near-feminist awakening. Richard Vernon's prickly, self-assured doctor delivers Belasco's paeans to spiritualism with iconoclastic flair. Matthew Hughes is a fine Willem, if perhaps just a bit too robust for the sickly boy, sidestepping the trap of turning him into a saintly Tiny Tim–like stereotype. As his stoic grandmother, Linda Blackstock makes a big impression in a small part. As the ineffectual local reverend and his prim wife, George C. Hosmer and Sidney Fortner are, alas, rather bland, while George Taylor does what he can with the one-scene and one-dimensional role of a grasping friend of Peter's (Taylor is more successful in a brief appearance as a circus clown).
After seeing the play, I reacquainted myself with RKO's 1935 film version, starring the brilliant Lionel Barrymore. At a brief 83 minutes (the stage production runs two hours and 40 minutes), it not only plays like a "greatest hits" rendition; it is also notable for all the censoring and softening. Gone entirely are Belasco's salvos at organized religion. Downplayed are his support for women's rights, scientific inquiry, and questioning of tradition. It seems that 24 years later, he was a bit too hot to handle. The king of melodrama dangerous: Who knew?
Presented by and at the Metropolitan Playhouse, 220 E. Fourth St., NYC. March 20–April 11. Thu.–Sat., 8 p.m.; Sun., 3 p.m. (Additional performance Sat., April 10, 3 p.m.) (212) 352-3101, (866) 811-4111,
www.theatermania.com
, or
www.metropolitanplayhouse.org
.