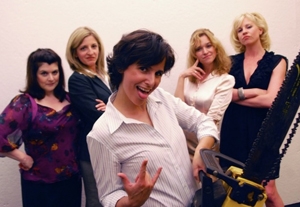 The Five Lesbian Brothers' 1993 comedy "The Secretaries" puts an American Gothic spin on the hit movie "9 to 5," as five women at an Oregon lumber mill bicker and bond. And while there are some zestful—and even unconventional—flights of fancy in the piece, the comedy is really nothing more than a meandering excursion into wan camp.
Something strange takes place every 30 days at the company: It involves the way in which the women obtain their prized lumberjack coats and hats, and audiences eagerly await the payoff from this setup. Yet by the time it arrives, almost all anticipation has waned, as the play, unevenly guided by director Mark Finley, has zigzagged unconvincingly and uncompellingly from scene to scene. The ensemble—Virginia Baeta, Elizabeth A. Bell, Jamie Heinlein, Karen Stanion, and Elizabeth Whitney—give spirited and smile-inducing performances, but it's not enough to elevate this anemic romp.
Presented by TOSOS as part of the New York International Fringe Festival at the Lucille Lortel Theatre, 121 Christopher St., NYC. Aug. 20–29. Remaining performances: Mon., Aug. 23, 6:30 p.m.; Tue., Aug. 24, 7:15 p.m.; Thu., Aug. 26, 2:15 p.m.; Sun., Aug. 29, noon.(866) 468-7619 or www.fringenyc.org.