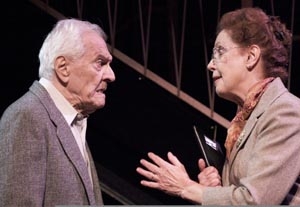 While it could use an editor, Jeff Cohen's "The Soap Myth" has a powerful impact. Inspired by real events and an article in Moment magazine, the docudrama centers on Milton Saltzman, a Holocaust survivor who is trying to convince museum curators and historians to believe his eyewitness account of Nazis making soap out of body fat from murdered Jews. This atrocity has never been conclusively proven and is the cause of much debate in scholarly circles. The story is chiefly told in long monologues delivered by Annie Blumberg, a freelance journalist just out of college, who's been assigned to cover Milton's claims. She also has issues about her Jewishness.
Cohen spends too much time explaining his points through Annie when he should be dramatizing them. For example, he has Annie describe—at length—her dreams of a Catskills comic from her youth telling dark jokes about the subject of her article, then has the comic enter and deliver his ghastly gags. Why not just show rather than tell? The play concludes with another lecture from Annie, telling us how we should feel. Despite the long-winded stretches, director Larissa Lury delivers a polished production, and Cohen raises challenging questions about the nature of history and who owns it.
As Annie, Katia Asche shows promise. This young actor has access to her emotions and expresses them poignantly, but her performance lacks variety, and she is difficult to hear, even in the intimate Seaport! theatre. Joel Friedman displays fire and passion as the elderly Milton but did not have a firm grip on his lines.
It's telling that the moments with the greatest punch involve neither Milton nor Annie. These are provided by supporting performers Louisa Flaningam and John Plumpis. Flaningam is disturbingly charming and chillingly intelligent as a British historian who denies the magnitude of the Holocaust. At first she is a jolly raconteur calmly defending herself against accusations of anti-Semitism; then she's staggeringly brutal as she delivers an angry thesis denying the extent of the German crimes against humanity. Plumpis effectively employs understatement as two different witnesses—a German lab technician and a Scottish prisoner of war—at the Nuremberg trials. Without resorting to histrionics, his characters simply and directly present devastating testimony of Nazi horrors. The entire play should have been this spare and moving.
Presented by Dog Run Repertory Theatre Companyat Seaport
!,
210 Front St
.,
NYC
.
July 13
–
Aug. 2. Mon. and Fri
.,
7 p.m
.;
Sat
.,
8 p.m
.;
Sun. 5 p.m
. (
Closing performance Sun
.,
Aug. 2, at 7 p.m
.)(
212
)
868-4444 or www.smarttix.com
.