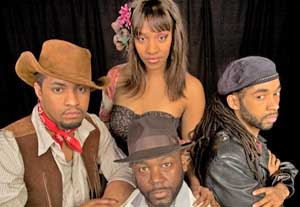 Halfway through "The Task," a quixotic piece of text by Heiner Müller, an unnamed character finds himself trapped in an elevator that is unhinged in time and space. Lamenting his fate, he reprimands himself for reading books in school on "poetry instead of physics." At least, that line is allegedly in Castillo Theatre's encumbered new production, presumably buried under the simultaneous hip-hop and unreadable projections. Indeed, director Gabrielle L. Kurlander might have done well to brush up on the laws of theatrical physics herself. But what would be the fun in that?
Though German avant-gardist Müller has indeed structured "The Task" with more attention to tone than narrative, its tenuous story follows three French revolutionaries of disparate class and race to Jamaica, where they are ordered to incite a slave rebellion against the British government. This account often diverges into figurative asides about romance or revolution, and though Kurlander overdoes the staging of these poetic segments, one imagines it's the sort of overdoing Müller would have liked. Situated on Joseph Spirito's set, a quaint cabaret affair called "The Müller Bar," these dreamlike vignettes are deluged with wild props, rhythmic chanting, and Antoinette Tynes' shadowy lights. This avalanche of input is sometimes inscrutable but always enjoyably bawdy. Who knew you could fetishize revolution? Kurlander bolsters the material with lively music and lyrics from Castillo alum Fred Newman and offers the first all-African-American version of the piece, a resonant choice that aptly highlights the arbitrariness of racism.
One successful divergence features Sylenia Lewis as a charismatic and provocative character called FirstLove, who chides the wealthy white revolutionary Debuisson, rendered imposingly by Keldrick Crowder, for turning his back on his heritage to "play revolution." The versatile John Rankin also seems at home throughout, equally on point as the affected fop Robespierre and the defiant slave Sasportas.
Presented by and at Castillo Theatre, 543 W. 42nd St., NYC. Jan. 22–March 7. Fri. and Sat., 7:30 p.m.; Sun., 2 p.m. (212)352-3101, (866) 811-4111, www.theatermania.com, or www.castillo.org.