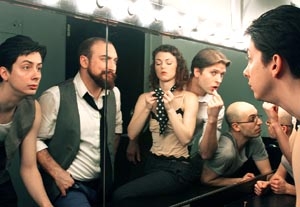 Watching "The Tremendous Tremendous," I felt as if I were hiding in a closet in the Marx Brothers' dressing room and spying on them as they cavorted backstage, singing, drinking, one-upping, and goofing on each other after a particularly successful vaudeville turn.
A collaborative effort by a troupe called the Mad Ones, this show comes very close to epitomizing the anarchic high spirits and brawling energy I always look for in Off-Off-Broadway theater but seldom find. In the end, the play doesn't actually go anywhere, but not getting there is so much fun that it may not matter to you.
Troupe members Marc Bovino, Joe Curnutte, and Stephanie Wright Thompson are credited with the writing, and they are joined on stage by Henry Vick and Michael Dalto. Together, they are the Tremendous Traveling Abbotts, an ensemble of high-voltage clowns blowing off steam in their dressing room after knocking 'em dead at the 1939 New York World's Fair. They regale each other with songs and stories, watch home movies of the fair, joke around in wildly overlapping dialogue, and, in their darker moments, wonder if they've just hit a peak they will never reach again.
The Mad Ones' promo material acknowledges the company's debt to Dadaism and its desire to "eliminate the ever-present editor that lives in a writer's brain." I must say that this particular writer's brain could have done with a bit more structure: not a plot, mind you, which wouldn't really suit the troupe, but a story. Promising narrative threads poke through here and there, but the play strenuously avoids following through on any of them, as if aimlessness were a virtue in itself.
A last-minute eruption of rage by one of the characters springs up rather suddenly, as if the troupe realized that the play was almost over and needed some kind of emotional climax. Still, I wouldn't want this to discourage anyone from checking out what the Mad Ones have to offer. They're a remarkable team: inventive, funny, and a consistent kick to watch.
Presented by the Brick Theater and the Mad Ones at the Brick Theater, 575 Metropolitan Ave., Brooklyn, N.Y. March 31–April 16. Thu.–Sat., 8 p.m. (212) 352-3101, (866) 811-4111, www.theatermania.com, or www.bricktheater.com.