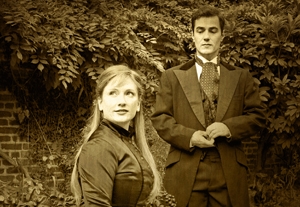 There is a moment in fear when time crawls to a halt, and the viewer can only look, frozen in horror, as the terror is slowly manifested before him or her. Two Turns Theatre Company's production of "The Turn of the Screw" slows down time but for entirely the wrong reasons.
Jeffrey Hatcher has adapted Henry James' novella into a vehicle for two actors. A ghost story, "Screw" is about an unnamed English governess who takes charge of two small children in a household that may be occupied by ghosts. This production feels a bit like a reading; there are no props, and Hatcher retains the novella's expository passages. Christina LaFortune and Vince Gatton play to a small audience of 34, which means that each reaction and every grimace can be clearly seen.
Gatton easily transitions through multiple roles. He is as believable as the precocious boy, Miles, as he is as the concerned housekeeper, Mrs. Grose. He also does a dead-on owl imitation (the actor provides the production's sound effects). LaFortune shoulders the majority of the drama. She is capable as the governess, selling the character's naivety and passionate enthusiasm. It's believable that this young woman, like Catherine Morland of Jane Austen's "Northanger Abbey," would want to be swept up in her own gothic romance. Yet during crucial moments, LaFortune veers toward overacting, coming off as shrill rather than genuinely horrified.
There are a few times when director Ken Cerniglia comes achingly close to evoking suspense, such as during a game of riddles between Miles and the governess. That's because those moments call for the actors to react silently rather than shout, allowing the audience to realize the sinister undertones for itself.
The elegant Merchant House Museum drawing room initially seems like the perfect environment for this period ghost story, with heavy brocaded curtains and dim lighting. But it's a pity that the production too often tells the audience to be scared rather than quietly allowing fear to take over.

Presented by Two Turns Theatre Company at Merchant's House Museum, 29 E. Fourth St., NYC. Nov. 11–21. Thu.–Sat., 7 and  9 p.m.; Sun., 6 and 8 p.m. (212) 868-4444 or www.smarttix.com.