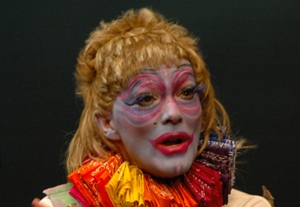 Is failure simply success biding its time, or is it the other way around? This cliché gets twisted and turned in Taylor Mac's newest play, "The Walk Across America for Mother Earth," created in collaboration with the Talking Band. Mac revisits a remembered experience—in which he joined a band of merry revolutionaries on a protest march from New York to Nevada—to meditate on activism's inevitable confrontation with the impossible. But failure catches up too quickly with this production, as the ironic tone it takes toward its characters, who eagerly seek to "stop global warming!," "support the organic food movement!," "release political prisoners!," and halt the U.S. nuclear program, for starters, makes the drama's heart difficult to locate. The plot quickly feels tiresome, and the activists are reduced to colorful clowns unable to make us laugh.
Director Paul Zimet's production saves the best for first: Machine Dazzle's costumes, which, predictably, look like scraps from Versace's trash can. They get the first entrance, because the show begins with the company standing in a line upstage. The costumes are the only aspect of the production that doesn't get swallowed up by the cavernous Ellen Stewart Theatre, which may be Off-Off-Broadway's most unforgiving space. The intimacy and condensed nature of a puppet show would have better served this "Walk," which might then have capitalized on its cartoonish tone.
Indeed, imagining Mac as a puppeteer clarifies what his play is missing—not simply Mac's inimitable charisma, which is subdued here, but also the voice of his character, Kelly, a wide-eyed boy looking for meaning in the madness in which he participates. Kelly provides the plot's journey, from a halfhearted commitment to "winning" to pleasure in the quest, and also the play's nostalgic but alienated perspective. Even though the cast includes both luminaries (Tina Shepard, Jack Wetherall) and sparkling newer talents (Daphne Gaines, James Tigger! Ferguson), sublimating Kelly into the ensemble leaves Mac's audience unsure why his companions' quixotic march matters.

Presented by La MaMa ETC, in association with the Talking Band, as part of Under the Radar at La MaMa ETC, 66 E. Fourth St., NYC. Jan. 20–30. Wed.–Fri., 7:30 p.m.; Sat., 2:30 and 7:30 p.m.; Sun., 5 p.m. (212) 475-7710, (212) 352-3101, (866) 811-4111, www.theatermania.com, www.lamama.org, or www.undertheradarfestival.org.