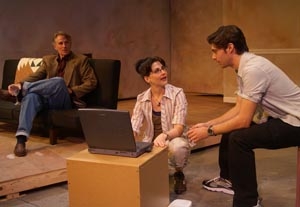 There's a lot of intelligence and passion evident in "The Woman Standing on the Moon," along with some pungent dialogue, as writer James Haigney explores the effects of the current political and international turmoil over religious extremism on everyday life. But his play also attempts to cover too much ground, both in terms of plot and theme, blunting the final impact.
The script centers on filmmaker Mary Latrobe (Christa Kimlico Jones), who is shooting a documentary about fundamentalism in America. She gets caught up in the charisma of guitar-playing Iraq War vet Randy Wallace (Taylor Flowers). Traumatized by the combat death of his buddy, Randy is sure that all the upheaval is a sign that the end of days is upon us. Randy's wife, Belle (Sarah Saunders), is sure that Randy is plotting to blow up a nearby storefront mosque. Belle is the woman of the title; Randy describes how he saw her that way when he first met her, as a vision from the Bible's Revelations.
Meanwhile, Mary is attempting to deal with her own loss, a young daughter killed while visiting Israel by an act of terrorism. Also on the scene are David (James Patrick Earley), Mary's ex-husband, a history professor who drinks too much, and Jack (Steven Michael Laing), Mary's younger lover, who also happens to be her film's producer and an Australian. All these plot threads and more—Belle is a psychic and pregnant and may be carrying the soul of Mary's dead daughter—tend to tie the proceedings up in off-putting knots, and the effect is wearing.
The play, under Benard Cummings' direction, has been mounted with obvious care. There are times when the histrionics get uncomfortably out of hand, but the actors also deliver a number of affecting moments. Particularly impressive are Flowers' mix of charm and menace as Randy and Saunders' otherworldly sweetness as Belle. Christopher Thompson's sturdy set is bland but works well as a receptacle for Greg Solomon's mood-setting lighting and the projections of Kevin R. French, which let us see what Mary is shooting with her ever-present video camera. Scott O'Brien's sound design is another fine element.
Despite the script's flaws, it's invigorating to see a playwright delving into important of-the-moment issues with perspicacity and serious intent. And it makes me eager to see what Haigney tackles next.
Presented by Spica 8 Productions at the Theatre at 30th Street, 259 W. 30th St., NYC. Sept. 16–Oct. 2. Tue.–Sun., 8 p.m. (Sun., Oct. 2 performance is at 3 p.m.) (212) 868-4444 or www.smarttix.com.