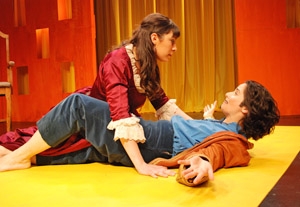 The Restoration period saw the rise of women on stage, both on the boards, with actors Elizabeth Barry and Charles II's mistress Nell Gwyn, and behind the scenes, with female playwrights like Susanna Centlivre. Now the Queen's Company carries on the tradition by presenting Centlivre's 1714 play "The Wonder" with an all-female cast.
Although "The Wonder" has little to distinguish it from other popular comedies of the Restoration era, it has all the charming qualities of its time, from its comedy-of-errors plot line to its unabashedly bawdy wordplay to its unexpected wit. When Isabella (Valerie Redd) escapes an arranged marriage and entrusts her secret to her brother's lover Violante (Abbi Hawk), miscommunications abound and trouble ensues.
Redd and Hawk stand out in a talented cast, with Maryam Benganga as the foppish Colonel Britton and Amy Driesler as the playboy manservant Lissardo also delivering notable performances. Although they play men, both are so comfortable in their roles that the potentially glaring gender card is never at the forefront of this production.
Director Rebecca Patterson's adaptation skillfully preserves Centlivre's comedic sensibilities, language, and wordplay while moving the action along at a brisk pace. But where Patterson succeeds in her adaptation of the script, she oversteps in its translation to the stage. In an initial misstep, she includes "movement sequences" to supplement what Centlivre provides in the script: Although Centlivre begins her play in medias res, Patterson opens the show with a pantomime, as if to spell out for the modern audience what it missed.
Although these interruptions are unnecessary, far more jarring is the in-your-face soundtrack Patterson chooses to accompany them. Although some artists, such as Tina Turner, might have been chosen as paeans to powerful women, some are simply puzzling (Bob Dylan?). A lip-synched performance to "When the Heartache Is Over" brings a potentially powerful moment into parody territory.
In her aggressive attempts to thrust "The Wonder" into the 21st century, perhaps Patterson is anticipating the common criticism that the play's lessons are dated. But her production is modern without such cheap tricks. Enjoying a fine play performed by a capable cast of women, who would rarely be seen in such classical roles, is enough to celebrate Centlivre's return.

Presented by the Queen's Company at the Kirk Theatre, 410 W. 42nd St., NYC. Feb. 27–March 14. Tue.–Sat., 7:30 p.m.; Sun., 3 p.m. (Additional performance Sat., March 13, 2 p.m.) (212) 279-4200 or www.ticketcentral.com.