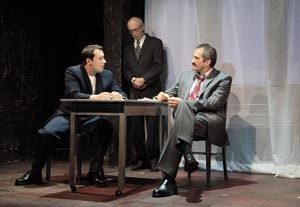 In an interview with Playbill.com, playwright Dan Klores notes that his maiden effort, last season's "Little Doc," also seen at Rattlestick Playwrights Theater, "was pretty much a disaster" and "a great learning experience." I missed it, but on the basis of his second play, "The Wood," which attempts to dramatize events in the life of Pulitzer Prize–winning columnist Mike McAlary, I'd say the learning curve was not a sharp one.
Klores focuses on McAlary's coverage of the 1997 Abner Louima case, in which a young Haitian immigrant was sodomized with a broomstick by a New York City police officer after being mistakenly arrested. It ultimately led to the largest police brutality settlement in the city's history: $8.7 million went to Louima, who promptly moved to Florida. McAlary, who at age 40 was undergoing chemotherapy for the metastasized colon cancer that would ultimately kill him, chose to investigate the case at the cost of skipping his treatments and hastening his death. It won him the Pulitzer and re-established his reputation, which had been tarnished by some questionable reporting about a rape case in 1994.
As actor John Viscardi, as McAlary, barrels his way through a long opening monologue of ham-fisted biographical exposition, impatience stirs. The bald-faced writing continues once the characters begin to interact, in scenes virtually devoid of subtext. Klores' use of Louima as a shadowy interrogator in McAlary's mind's eye is inconsistent, particularly after the two men meet, and ineffective. The supporting characters, especially McAlary's wife, Alice, struggle to attain even two dimensions. Finally, the play peters out in an excess of uncompelling falling action leading to a predictable ending.
Viscardi accentuates McAlary's bullheadedness and self-conscious one-of-the-boys masculinity, but he rarely slips beneath those surfaces. Kim Director struggles with the saintly Alice, but the flimsy writing prevents her from making much of an impression. Only Vladimir Versailles, as Louima, manages to transcend his material, negotiating highly melodramatic hospital scenes with honesty and restraint. The five remaining cast members play multiple roles with perfectly professional commitment.
Director David Bar Katz at least keeps the proceedings moving at a good pace on John McDermott's bland gray set of torn pieces of newspaper. Kalere A. Payton's suitably workaday costumes are similarly subdued, and Joel Moritz contributes a strikingly good lighting design.
Klores and McAlary were friends, so the problem may be that the playwright lacked the necessary distance from his subject. I have a hunch, however, that what Klores really lacks, apart from natural talent, is a proper grounding in the basics of the not-so-easy-as-it-looks craft of writing for the stage.
Presented by and at Rattlestick Playwrights Theater, 224 Waverly Place, NYC. Sept. 15–Oct. 9. Mon., Wed.–Sat., 8 p.m.; Sun., 3 p.m. (212) 279-4200 or www.ticketcentral.com. Casting by Judy Bowman Casting.