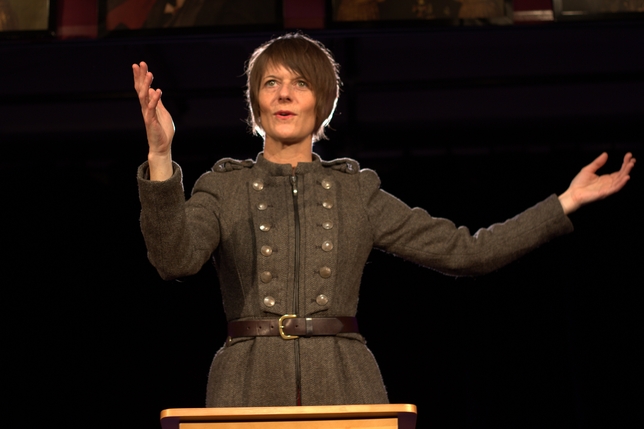 There is a kind of performance during which every offstage noise, every coughing audience member, feels as if it might have some kind of serious significance within the context of the show you're watching. It's a mood as much as a style, and in Kristen Kosmas' "There There" it permeates the room like a fog. It almost feels like giving away a plot point to say so, but there are no performers onstage other than Kosmas and Larissa Tokmakova, who translates much of "There There" into a language I certainly don't speak but assume to be Russian. The show—call it a two-person monologue—is partly about a solo show on tour in Russia starring Christopher Walken. The conceit is that the star falls off a ladder—or perhaps is pushed—and Kosmas is called upon to perform in his place.
The other, thicker plot strand is Kosmas' lengthy justifications for the utterly bizarre and occasionally reprehensible behavior of Vasily Vaslievich Solyony, one of the most perplexing, irritating, and unstoppably interesting characters in Chekhov's canon. (Cliffs Notes: Solyony is a lovable, tragic nut in "Three Sisters"; he's forever saying exactly the wrong thing and falling in love with the wrong girl, over whom he shoots the nicest character in the play.)
There must be something in the beer at some East Village Bar I should probably start going to. With Annie Baker's new version of "Uncle Vanya," "There There," and another Chekhovian Performance Space 122 show coming up in January, Half Straddle's "Seagull (Thinking of you)," it is a good time for avant-garde glosses on Russia's answer to Shakespeare. Here, Kosmas' take on Solyony, though at times a little obfuscatory and recursive, is quite touching. She sympathizes with the guy, because who hasn't felt like everything she says comes out totally wrong? Even Tokmakova gets exasperated with her near the end of the show.
Sometimes the recursion is a good thing. Kosmas spent several minutes talking about how much she wanted a pear, to the point that I wondered if perhaps someone was supposed to come in with the coveted fruit and had missed a cue. Eventually, she said she'd settle for an orange, and an audience member pulled one from her purse and rolled it up into the performance space. I'm still not sure if that was scripted or not.
I wish director Paul Willis had given "There There" a little more shape. Kosmas' wanderings can feel stagy and out of tune with what she's saying, and not for any discernible reason. Overall, though, Kosmas' sympathy for the awkward, loveless Solyony becomes a conduit for a listener's sympathy for her, and through her for him, and through him into Chekhov's beautiful play about immobility and unrequited love. How odd and exciting to experience that opening of the heart with only one lover in view.
Presented by the Chocolate Factory and Performance Space 122 at the Chocolate Factory, 5-49 49th Ave., Queens, N.Y. Dec. 19–Jan. 12. (212) 352-3101, (866) 811-4111, or www.theatermania.com.
Critic's Score: B+