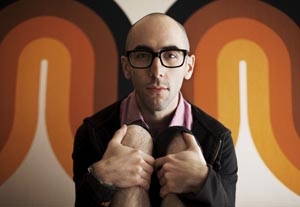 Reviewing Dan Fishback's 2009 play "You Will Experience Silence," the Village Voice likened the playwright and performer to Tony Kushner, a comparison that's understandable given Fishback's solid grounding in the gay Jewish experience. In his latest solo work, "thirtynothing," Fishback aims to honor some of the lesser-known heroes of the gay radical art movement, in a production that's half personal history, half artistic tribute.
The playwright was born in 1981, the same year that the AIDS virus was discovered. 2011 marks the 30th year of both, and presents an opportunity for Fishback to look back on gay New York of the time, "a community made legendary by its heroic fortitude in the face of death." He contemplates the era with a measure of guilt over for the fact that he wasn't old enough to help care for those suffering and the possibility that, if he had been an adult at the time, he might have looked the other way. That frightening thought led Fishback to delve into the work of gay artists past, to paying them homage and applying lessons from them to contemporary gay life.
Growing up in suburban Maryland, Fishback was both isolated from and oblivious to that community, including the group of artists and writers that he honors here. David Wojnarowicz's controversial video "Fire in My Belly"— which provoked indignation when shown at the National Portrait Gallery just this year—and photographs by the lesser-known Mark Morrisroe are projected onto a screen, interspersed with Fishback's own drawings and footage from his childhood home movies. He reads provocative passages from David B. Feinberg and Essex Hemphill, who were living with the destruction of AIDS while Fishback was blowing out the candles on his birthday cake and obliviously singing the "Rent" soundtrack. "How is it possible that I am the only creative, rebellious gay boy who has ever lived?" Fishback recalls thinking, with the stark irony of the statement immediately evident as art from other "creative, rebellious gay boys" is displayed on the screen behind him.
Fishback's persona as the neurotic intellectual can be overbearing at times, but more often it offers some moments of levity in a show with a large basis in tragedy. More troublesome is his tendency toward melodrama. Several song snippets seem more at home in a coffeehouse than in this otherwise well-crafted production. At the performance attended, Fishback seemed more human and at ease ad-libbing after several technical difficulties than in more stifling parts of the script.
How can we cope with the reality of the AIDS epidemic, 30 years later? Fishback doesn't offer easy answers, but "thirtynothing" succeeds in bringing its lesser-known champions back in the spotlight and exploring their impact on the modern New York culture. More importantly, it dares us to see ourselves in those gay icons, and to hope that we would have their courage.
Presented by Dixon Place and BAX/Brooklyn Arts Exchange At Dixon Place, 161 Chrystie St., NYC. Sept. 30-Oct. 22. Fri.-Sat., 9:30 p.m. 212-219-0736 or www.ovationtix.com.