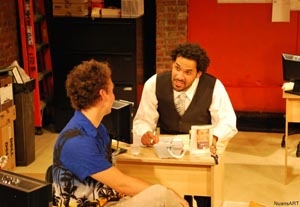 Richard Hymes-Esposito's program bio gives no indication that he ever worked in real estate, but his play
This Isn't Paradise
, which takes place in a Manhattan apartment-rental agency, has a discomfiting air of authenticity. The agency also comes across as a not particularly pleasant place to work. When the employees aren't snickering about each other's personality peccadilloes, they're bickering about fees and stolen clients. And as the recession tightens, clients of any sort are becoming increasingly rare. This only heightens the tension, while Jake, the owner-manager, periodically attempts to signal the agents back to their computers with the none-too-convincing mantra "There's money to be made."
Lording it over the place is Robert, the agency's top producer. As played by the author, he's a stiff, surly fellow whose scowl is interrupted only by an infrequent smirk or his somewhat more frequent bursts of temper. Did I mention he's not very likable?
In its early scenes, the play seems sluggishly diffuse, despite the horseplay that pervades the office. But the story eventually pulls you in as Robert's supremacy is threatened by a new agent trainee, the smart and comely Heather, who has also awakened Robert's libido. When his position finally crumbles, Robert threatens to take a terrible toll from his fellow workers.
Director Robert Haufrecht's staging effectively captures the workaday atmosphere, as does Craig M. Napoliello's impersonal but detailed office set. As Robert's co-workers, Eden Marryshow, Nimesh Gandhi, Jesse Wakeman, and David H. Holmes offer amusingly accurate portrayals of the kind of playful or sarcastic guys you could well dread facing every morning. Elizabeth Woodward gives Heather a nice sense of intelligence, while John Reoli, as the benevolent but harried agency owner, delivers the play's most sympathetic character.
Assuming that Hymes-Esposito, who also produced the show, did work in such an agency,
This Isn't Paradise
seems more impressive as an act of revenge than as a play. It makes its points, but it would have been helpful if it gave the audience a central figure we could empathize with.
Presented by RHE Productionsat the 78th Street Theater Lab, 236 W. 78th St
.,
NYC
.
June 18
–
29. Mon
.–
Fri
.,
8 p.m
.;
Sat
.,
3 and 8 p.m
.
(
917
)
916-0239, www.brownpapertickets.com, or www.thisisntparadise.com
.