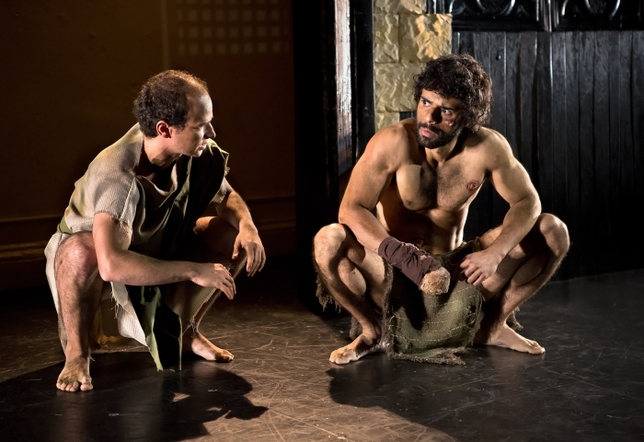 The Book of Job, which depicts the trials and suffering of Job that test his faith in God, is a well-known Biblical story. But in Thomas Bradshaw's shocking, sometimes horrifying stage version, holiness couldn't be further from the evening's fare. In "Job," Bradshaw chooses to harness the gruesome and grotesque elements of the title character's devotion to Old Testament law, and as a result, his play loses some of the original tale's humanity.
For non-Bible scholars, here's a quick recap: Job is a righteous servant of God who has been rewarded richly for his devotion and faith. He has more livestock than anyone needs and lives happily with his wife and 10 children, ruling over his land -- until the day Satan makes a bet with God that if Job's well-being were compromised, he would curse instead of praise God. And the sick bet ensues.
Bradshaw takes some artistic liberties with the parable. Here, Job has three children instead of 10. And there was no rape or incest in the Bible story, but the message is essentially the same. Job's family, possessions, and well-being are destroyed, yet he does not turn from his God.
Bradshaw is known for provoking his audiences. Just as the devil tests Job, Bradshaw tests the audience's tolerance for brutality, and his tests can be difficult to pass. (One of Job's sons murders his sister, then rapes her corpse, a scene staged so literally by director Benjamin H. Kamine that it's hard to watch.) These gruesome acts don't diminish the play's effectiveness, but they tend to turn the characters into props instead of human beings.
"Job" marks Bradshaw's first collaboration with The Bats, the Flea Theater's in-house acting ensemble, and it looks to be a promising partnership. The 21-person cast inhabits Bradshaw's characterizations of Biblical figures in a distinctly human fashion, with a standout performance from Sean McIntyre as Job.
The only stark inconsistencies in the play lie in the disparity between the heavenly and the earthly realm. God, Satan, Jesus, and an out-of-place Dionysus -- as God's second son, presumably added for all the cheap wine jokes -- look like they walked out of a J. Crew catalog, whereas the "humans" are dressed in conventional B.C. attire. (Ashley Farra's costumes are attractive, if a little bit bipolar.) Like the best of the Bard, Bible stories fall victim to many interpretations, and while modern or literal can both be valid takes, the meshing of the two is somewhat ill-conceived. These disjointed worlds hamper Kamine's vision for the piece, although the director does use Jeremy Bloom's sound design and Jonathan Cottle's lighting design to effectively pull the piece together.
While portions of "Job" are taken directly from the Bible, Bradshaw has created a sodomized and sexed up depiction. Sometimes it's hard to detect Job's devout nature amid the slaughter, but hey, Old Testament law was different. And evidently so are Bradshaw's rules for theater.
Presented by and at The Flea Theater, 41 White St., NYC. Sept. 19–Nov. 3. (212) 352-3101 or www.theflea.org.
Critic's Score: B-