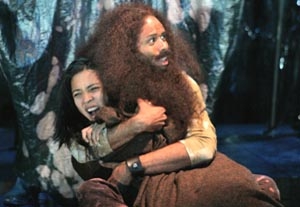 If playwright A. Rey Pamatmat had stopped at writing a play about three homeless friends trying to find the money to escape the upcoming Chicago winter for the comforts of San Francisco (which hardly seems the ideal warm climate, but so be it), "Thunder Above, Deeps Below" would be a funny and touching play about the safety net we create for ourselves with the friends we accumulate over time. Unfortunately, he didn't stop at thug hooker Hector (Rey Lucas), tormented Theresa (Maureen Sebastian), and transsexual Filipino Gil (Jon Norman Schneider); he also tosses in a waitress (Phyllis Johnson) who inexplicably sprinkles cups of coffee with "magic" and a mysterious man (Darian Dauchan) on a raft piloted by Death.
The upshot of his experiments is a tonally inconsistent show that veers from its more-compelling plots for moments of genuine weirdness only slightly helped by the stellar lighting and sound design from Scott Bolman and the Broken Chord Collective, respectively. Hector's scenes with his generous benefactor (Rafael Jordan), an African American with a wife who bristles at being labeled a homosexual, are tense and powerful but end too quickly, in favor of more scenes featuring the haunted Theresa. We know she's haunted because Sebastian darts her eyes nervously and taps her fingers incessantly in a shrill performance that director Pat Diamond has done nothing to alleviate.
Diamond also allows his actors to yell too often, letting their echoes threaten to drown out their dialogue in the small space. Lucas is especially guilty, braying his lines at an uncomfortable volume. And that raft is never fully integrated into the plot, serving as a heavy-handed metaphor that Diamond and Pamatmat never manage to turn into an organic part of the story.
Luckily, whenever "Thunder Above, Deeps Below" gets too bogged down, Schneider's inspired comic turn keeps things entertaining. Cracking jokes with one hand on his hip like a demented Eve Arden, he also scores heavily with a painful, breathtaking musical number Gil delivers in the second act while dressed like a Filipino Louise Brooks. Schneider gives a shockingly naked performance, accentuating every bad note and exaggerated lyric delivery from the oblivious Gil with a wink or a deluded grin. Gil may not have the talent he thinks he has, but Schneider has it in spades.
Presented by Second Generation at the TBG Theatre, 312 W. 36th St
.,
3rd floor, NYC. Sept. 13
–
26. Wed
.–
Sat
.,
8 p.m
.;
Sat. and Sun
.,
3 p.m
. (
212
)
868-4444 or www.smarttix.com
.