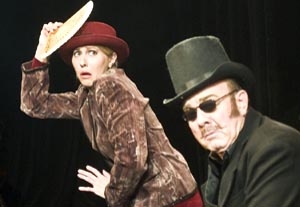 Poor William S. Gilbert. His prodigious life's work as a playwright, poet, and lyricist, along with the music of his collaborator Arthur Sullivan, has been out of copyright for almost five decades. Modern theater folk can do whatever they like with the team's 14 public-domain operettas or Gilbert's 70-odd solo works. In this pastiche production, Robert Sickinger combines Gilbert's 1877 comic play "Engaged" with no fewer than 36 G&S songs from eight of their operettas. Sickinger, who also directed, has contributed "additional lyrics" to this uneasy melding. The producers are touting the result as "a new Gilbert and Sullivan musical." Of course, it's nothing of the kind.
"Engaged" may well have been Gilbert's most popular work apart from Sullivan. But whatever its Victorian charms, here the satire is largely overwhelmed by the music, though it's beautifully sung by a cast of 12 and even more superbly played by a live quintet led by musical director and orchestrator Mark Evans. Don't expect Gilbert and Sullivan's greatest hits, however. There is nothing here from "The Pirates of Penzance" or "HMS Pinafore" and only three songs from "The Mikado." The borrowings from "Iolanthe," "The Gondoliers," "Ruddigore," "The Sorcerer," and other operettas are lovely and very recognizably G&S—at least until those additional lyrics are shoehorned in to fit the rather uninteresting action. 
As well as they sing, the performers are mostly callow when it comes to 19th-century sensibilities or wringing any real humor out of Gilbert's silly plot about a wealthy serial fiancé who wants to marry every girl he meets, the mercenary girls themselves, and their even more mercenary London relatives. Accents, both Scottish and English, are all over the place.  

Presented by John Chatterton in association with William Fox and Wings Theatre Company at Wings Theatre, 154 Christopher St., NYC. Oct. 4–17. Wed.–Sat., 8 p.m.; Sun., 3 p.m. (212) 627-2961 or www.wingstheatre.com.