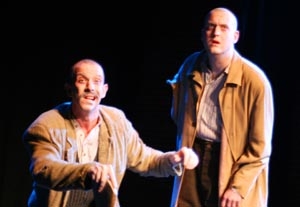 Beckett's little tramps have nothing on playwright Mark Doherty's centenarian son, Thomas (Mike Dees), and his father, Da (Charlie DelMarcelle). Watching the two actors brilliantly riff off each other, rehash tall tales, and find a moment of terrible emotional truth splits the sides and touches the heart.
"Trad"—the title is a colloquial shortening of "traditional"—gives us traditional Irish culture. Outlandish stereotypes (a whiskey-drinking priest, a feisty old coot) and tall tales (a man plows a field with a tooth) are accompanied by traditional music played by the hard-working John Lionarons on hammered dulcimer, fiddle, and accordion. Like many an Irish air, "Trad" hides a sucker punch of sentiment, and it was not only I who wept all the way through the last scene.
Da talks about the old days and the meaning of being Irish, poking his one-armed son with a cane that looks suspiciously like a hurley stick. Thomas' revelation that he could have a son, who would now be 70, provokes Da to command, "Get me leg!" and the two set off. In the cemetery, they meet a crone named Sal (Jared Michael Delaney). She suggests they ask Father Rice (also played by Delaney), who would have the records of all the christenings in the parish. Thomas loses his temper as he grows tired, questioning "this tradition thing" and the stories Da tells night after night. Still, they press onward, finding the priest—his deaf shrieks of "Heh!" punctuating every line—and truth.
"Trad," which won an Edinburgh Fringe Festival First in 2004, appears in New York for the first time thanks to the Philadelphia company Inis Nua, which brings it to the 1st Irish festival. Director Tom Reing, also the company's artistic director, exquisitely times the play so that its routines and set pieces never stop the action.
Presented by Inis Nua Theatre as part of 1st Irish 2009
at Manhattan Theatre Source, 177 MacDougal St
.,
NYC
.
Sept. 6
–
22. Mon. and Tue
.,
8 p.m
.;
Sun
.,
3 p.m
. (
212
)
352-3101
, (
866
)
811-4111, or www.theatermania.com
.