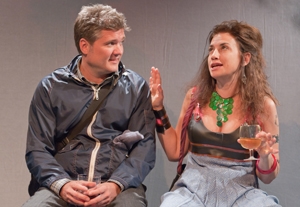 Train travel is not the easiest thing to convey on stage, but "Trans-Euro Express" proves to be a brisk, entertaining journey, propelled by Gary Duggan's amusing script and director Chris Henry's deft use of video projections that convey a sense of movement.
Ballard (Charlie Kevin), a would-be filmmaker living in Dublin, is going through a particularly rough patch. Closer to 40 than 30, recently dumped by his girlfriend, and stuck in a soul-sucking office job, he desperately needs to be blasted out of his rut. His younger friend Gram (Roderick Hill), a promising musician, offers Ballard a chance to shoot his first music video, and the two embark on a train trip across Europe that results in more drunken debauchery than usable footage. Along the way they connect with two friends of Ballard's: the heavily pregnant Dutch artist Fleur (Patricia Buckley) and the endearingly eccentric actor Anna (Katy Wright-Mead).
Most of the themes Duggan employs have seen yeoman's service in countless other plays, films, and novels: the creeping desperation of middle-aged disappointment, boozy male bonding, the road or train trip as a metaphor for self-discovery, etc. Ballard also has an epiphany at the end that, though not completely incredible, seems more like a convenient way to end the play than a likely resolution to his crisis. Still, "Trans-Euro Express" is fresher than it has any right to be, thanks to Duggan's sprightly, profane dialogue and eye for the subtle quirks of human behavior.
Kevin and Hill display what I hesitate to call bromantic chemistry, and the women who complicate their laddish idyll are vivid, offbeat creations. The four cast members appear to be genuinely at ease with each other; we have no trouble believing that these characters are friends of long standing.

Presented by Irish Arts Center in association with Fundamental Theater Project as part of the First Irish Theatre Festival at Irish Arts Center, 553 W. 51st St., NYC. Sept. 19–Oct. 3. Wed.–Fri., 8 p.m.; Sat., 2 and 8 p.m.; Sun., 7 p.m. (Sun., Oct. 3, performance at 3 p.m.) (212) 868-4444 or www.smarttix.com.