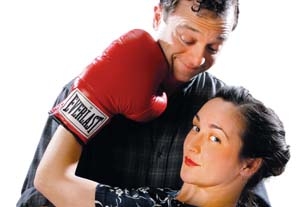 As performers rather than actors, in an extended sketch rather than a play, Megan McClellan and Brian Sostek are showing off a variety of talents, which seems to be the point of their self-written, self-directed exercise. Together they fill the stage with expert dances, barely cued by the proceedings, and he employs a variety of voices and stances in portraying an array of characters.
The 1930s tale of an immigrant apple seller who is promoted into a winning boxer makes a workable device. The bare-bones production features some nice period touches, such as a live duet radio commercial for watches and Sostek's dead-on channeling of Ed Wynn as the voice of an odds-maker. The boxing matches are conducted by Sostek working crude puppets on a portable Punch and Judy stage. Recorded Depression-era songs nicely evoke the era, at least until the jarringly anachronistic "Rocky" theme announces yet another puppet match. We get it. It's boxing.
Presented by Sossy Mechanics as part of the New York International Fringe Festival
at the Connelly Theater, 220 E. Fourth St, NYC. Aug. 15–26. Remaining performances: Thu., Aug. 19, 2:30 p.m.; Sun., Aug. 22, 4:15 p.m.; Thu., Aug. 26, 7:30 p.m. (866) 468-7619 or www.fringenyc.org.