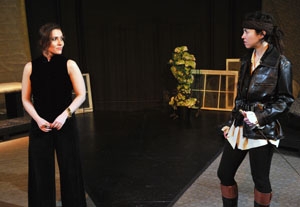 This witty yet sometimes schizophrenic modern take on Shakespeare's mistaken-identity comedy from the Frog & Peach Theatre Company does many things right. Unfortunately, Jane Cortney's gender-bending Viola, one of the Bard's most impressive leading ladies and my favorite character in the play, comes across as flat and annoying.
As Viola, Cortney continuously cocks her head indignantly with her mouth ajar in disgust, and while acting the part of Viola's male alter ego, Cesario, her valley girl vocal inflections immediately give away her female identity. There is some evidence for Viola's poor attitude in the text—"The rudeness that hath appeared in me have I learned from my entertainment," she retorts to the countess Olivia (Amy Frances Quint)—and no doubt Viola is in a difficult situation, harboring an unrequited love and all. However, Cortney doesn't shift gears from snooty servant to lovesick heroine, which also inhibits her chemistry with Erick Gonzalez, who plays Cesario's master and Viola's secret love, Duke Orsino. As the duke compares Cesario's lips to those of a woman, instead of slowly realizing Viola's disguise, Gonzalez chooses to abruptly grab Cortney and squeeze her lips together like a fish.
Director Lynnea Benson shows an impressive mastery of the text, even if she did feel the need to give a lesson in interpreting Shakespearean innuendo before the lights went down. The play moves along at an impressive clip, and the enunciation, clarity, and comedic timing rival most successful Shakespeare productions I've seen. The comedy soars in the scenes with the debauchery-laden quartet—Sir Toby (Jonathan Marballi), Sir Andrew (Michael Broadhurst), Maria (Leah Reddy), and Fabian (Steve Mazzoccone)—and is complemented by the frequent additions of the feisty jester Feste (Eric DySart) and the buzz-killing, and later spited, Malvolio (Lenny Ciotti).
The interpretation seems modern, as Sir Toby sports a graphic tee, with his sidekick Sir Andrew clad in a pattern-clashing ensemble complete with red shoes that's reminiscent of Brooklyn hipsters. The costumes may be more attributable to financial necessity than exact vision, though, as swords would be somewhat anachronistic in today's world. Feste's songs encompass an array of genres, from rock to old-school country, with inventive original compositions by Ted Zurkowski.
Even with its shortcomings, this production would work for an educational outing, as it can be difficult to find well-paced and easily understandable Shakespeare. Luckily, the venue is a quaint church on the Upper West Side, a neighborhood where schools and families abound.
Presented by the Frog & Peach Theater Company at the West End Theater, 263 W. 86th St., NYC. Thu.–Sat., 7:30 p.m.; Sun. 3 p.m. (212) 868-444 or www.smarttix.com.