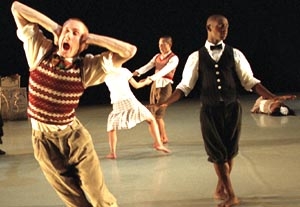 "Ideally, if anything was any good, it would be indescribable," the artist Edward Gorey once said. If Gorey is to be believed, then to describe "Ukrainian Eggs," Jonathan Riedel's remarkable dance production, is an impossible task.
Director-choreographer Riedel conceived the show using several of Gorey's illustrated books as its basis. Short vignettes are tied together through the recurring appearances of Jonathan Fredrickson and Kathryn Alter, whose physical comedy and brilliant costuming by Stacey Berman are the most overtly cartoonlike elements.
The company's dancers are expressive both in their movements and their faces. Their actions are perfectly coordinated with the music, classical selections from Mozart to Satie that also reflect the sentiment of each moment.
Practically each segment includes at least one death, but "Ukrainian Eggs" will leave you laughing, blending the dazzling with the macabre in a brilliant tribute to Gorey's work.
Presented by Riedel Dance Theater as part of the New York International Fringe Festival at the Robert Moss Theatre, 440 Lafayette St., 3rd floor, NYC. Aug. 25–30. Remaining performances: Fri. Aug. 28, 2:15 p.m.; Sat., Aug. 29, 6:45 p.m.; Sun., Aug. 30, 4:45 p.m. (866) 468-7619 or www.fringenyc.org.