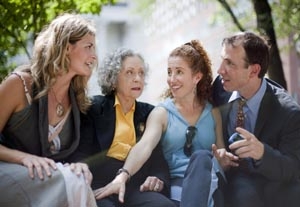 David S. Singer's comedy "Union Squared" reveals a shocking secret: Deep down in the heart of every woman—your wife, your lover, even your Jewish mother—is a lesbian just waiting to be unleashed. Wow! Who knew?
Here's the story: Brad (Levi Sochet), a broker with a gambling problem, is told by his mother, Sophie (Anita Keal), that his father had money hidden in a Swiss bank account, about $27 million, and she now plans to give it all to him. So Brad makes plans for the money with both his massage therapist and lover Shannon (Carlina Ferrari) and his wife, Rachel (Annie Meisels). By accident, Rachel discovers Brad's affair, and she confronts Shannon. The two women are instantly attracted to each other and start an affair. Then when Sophie meets Shannon, they flirt. Hijinks ensue.
This deeply unfunny play is a muddled mess from beginning to end. Part of it is Singer's trite script, but most of the blame rests with Diana Basmajian's sloppy direction. The actors spend too much of the play unnecessarily moving set pieces around. When the scenes finally do start, the action is awkward and without much comic punch.
Presented by Bay Bridge Productions and Laura Wagner as part of the New York International Fringe Festivalat the Players Theatre, 115 MacDougal St
.,
NYC
.
Aug. 22
–
30. Remaining performance
:
Sun
.,
Aug. 30, 1:15 p.m
.(
866
)
468-7619 or www.fringenyc.org
.