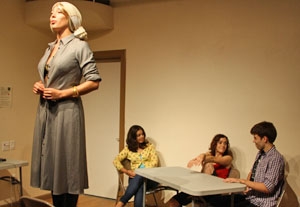 Biting off more than you can chew can be a virtue in playwriting. In "Until We Find Each Other," currently being presented as part of the Midtown International Theatre Festival, playwright Brooke Berman explores religion, family, love, loneliness, sex, ecstasy, and more. Even though she doesn't delve deeply into those themes, any theatergoer wishing to see a smart, ambitious playwright wrestling with divinity will likely find a visit to the Abingdon Mainstage Theatre worthwhile.
Miriam, Justin, and Sophy are cousins, bound to each other through psychic awareness. As the play begins, Miriam enlists Justin to join her in a search for Sophy, because she believes Sophy is in trouble. On a deeper level, Miriam is searching for a connection to life, and Justin is avoiding being her connection. Sophy addresses the audience directly, explaining such life choices as working as a stripper and becoming a religious Jew. Meanwhile, Justin's girlfriend Tangee considers converting to Judaism so that she can be with Justin, but instead she falls in love with Judaism—and ultimately with the rabbi instructing her. Though Justin and Miriam don't find Sophy, they do find what they're searching for in each other.
If a play can sprawl in tight confinement, this one does. Berman fires off cannonades of ideas in a fast-moving 80 minutes, but in so doing she scants her story and characters. Too often they turn into frameworks for ideas, and the play's events dim into vagueness. For instance, what does happen to Sophy? And is the subplot involving Tangee and the rabbi absolutely necessary? We are left frustrated because we want the plot to resolve satisfyingly. In the end, though, Berman's keen insight and gift for dialogue that cuts and counts balance out the narrative deficiencies.
In the best productions, good acting lifts a script and a good script inspires actors. That is the case here. Although the entire ensemble is praiseworthy, I must single out Mara Kassin's strong but vulnerable Miriam and Abbi Hawk's mysterious, multifaceted Sophy. Her short, ecstatic dance is a moment of theatrical rapture. Director David Winitsky gets partial credit for that moment and overall high marks for keeping a complex play accessible. On the technical side, Tim Boyce's simple but smart sound design merits attention.
There are at least half a dozen festivals on the boards in New York this summer, each one presenting several productions. One can't help wondering if there is enough good writing to go around. In this case, though, the Midtown Fest has found a jewel.
Presented by MSK Productions as part of the Midtown International Theatre Festival
at the Abingdon Mainstage Theatre, 312 W. 36th St., NYC. July 20–Aug. 1. Remaining performances: Sat., July 24, 4 p.m.; Sun., July 25, 2 p.m.; Wed., July 28, 6 p.m.; Fri., July 30, 8 p.m.; Sun., Aug. 1, 6 p.m. (212) 352-3101, (866) 811-4111, www.theatermania.com, or www.midtownfestival.org.