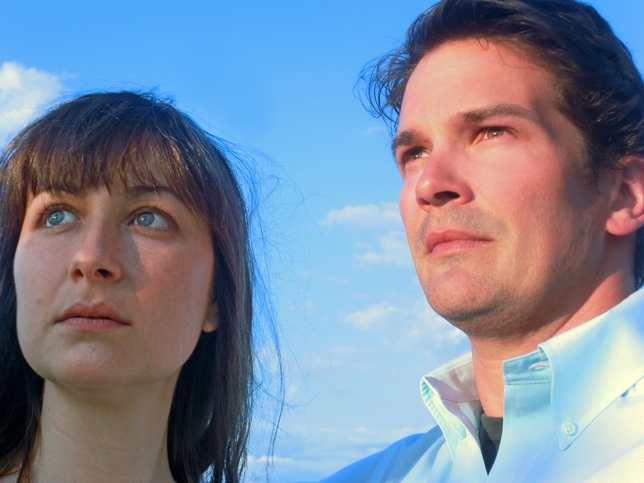 I'm afraid that playwright Arlene Hutton, author of the wonderfully restrained, emotionally acute "Last Train to Nibroc," is a bit stymied by "Vacuum," a set-in-the-near-future melodrama about whether or not an amazing cure for cancer should be made available to the world. Though Hutton sets high stakes and raises important ethical questions, the play is curiously muted, and the characters are too predictable.
The dilemma belongs to Gray, a debt-riddenKansasscientist who has found a way to implode the mass of tumors until they shrink to nothing. The slimy alpha-male Jonathan wants to buy Gray's discovery, setting Gray up financially for life and allowing him to take proper care of his brain-damaged wife, Amelia, upon who's research, done before her accident, his work is based. Unfortunately, Jonathan wants to use it as a process to tighten the skin, not cure cancer. That would destroy the American health industry and thus the world economy, he says. At a luxury resort in the West, the above three are joined by Ruth, Jonathan's bitter ex-wife, who still works for his skin-care company; Kathy, Jonathan's bitchy assistant; and Patricia, a skin-care guru who regrets her loss of scientific respectability.
It's really never in doubt what the oh-so-decent Gray will decide, particularly as he's paired with the mustache-twirling Jonathan, so the machinations in getting there are less than compelling. Director Chris Goutman draws decent performances from the talented cast, with Dana Brooke standing out as Amelia.
Presented by the Journey Company and Wild Card Productions as part of the New York International Fringe Festival at theCherryLaneTheatre,38 Commerce St., NYC. Aug. 16–24. Remaining performances: Sun., Aug. 19, 12:30 p.m.; Wed., Aug. 22, 9:30 p.m.; Fri., Aug. 24, 9 p.m. (866) 468-7619 or www.fringenyc.org.
Critic's Score: C