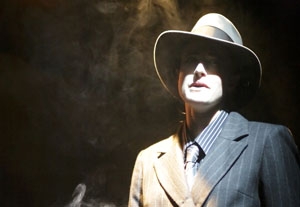 For the women of New York City in the early 1940s, World War II was both a source of anxiety and of newfound freedom. Rosie the Riveter urged women to fill in for the boys on the home front. But it was also a critical moment for the lesbian community, which gained greater visibility on the job and out of the kitchen. Yet, despite these strides, these "liberated" women are rarely depicted in the film noir or noir fiction from the same period, which portrayed women as either victims or femme fatales.
Enter Butch Diamond, private eye. Or, as she quips, "a private dick, without one." Butch (Xanthe Elbrick) is the heroine and narrator of the Active Theater's "Venus Flytrap," a postmodern re-imagining of film noir with a gender-bending twist. Butch is a lesbian, dressed in the private detective's classic double-breasted pinstripe suit and known to her clients in the gay community as a quick wit with no apologies for her "deviant behavior."
Director Marcia Milgrom Dodge, whose acclaimed Broadway revival of "Ragtime" nevertheless closed after a short run early this year, adroitly mirrors the images associated with film noir, giving the production a cinematic quality. She is an advocate of the stage picture, meticulously setting characters in precise tableaus, often in silhouette: A mysterious blonde blows cigarette smoke into the air under a streetlamp while a shadowy figure lurks in a doorway.
These images are aided by lighting designer Paul Miller's keen awareness of the genre, defined both in name and in style by its cautious approach to light. Streetlamps comprise the production's primary three set pieces, which are scattered around the stage and punctuate nearly every scene with their flickering glow. In the evocative opening moments of the play, the dark stage is illuminated only by the lighting of a cigarette.
But despite the attention paid to these visual details—or perhaps because of it—"Venus Flytrap" is missing a key element that drives classic noir: suspense. Playwright Anthony Dodge, married to the director, includes the obligatory mistaken identities and last-minute reveals, but there is little immediacy to this production's twists with such lingering emphasis on the static tableaux.
An uneven cast magnifies these faults. Elbrick, whose performance in 2007's "Coram Boy" garnered her a Tony nomination and a Theater World Award, plays fluently with the jive idiom that runs throughout Dodge's script; her wry smile, emerging from beneath the brim of her hat, adds to her charm. But few others in the cast can match her mastery of the '40s patois, with the notable exceptions of Grace Gealey, as the seductive Delilah, and Richard B. Watson, as the villainous Professor Zoltan Moldovan.
The real mystery in "Venus Flytrap" is the production's ambiguous attitude toward the genre that inspired it. Besides its clear visual tribute to 1940s film noir, the production alternates between homage and critique, unsure whether to deconstruct the genre or reinvent it. What results is a watered-down version of classic noir that broaches gender issues without making a statement. And for a dame as outspoken as Butch, that's a shame.

Presented by the Active Theater in association with Craig Haffner and Karl E. Held at the WorkShop Theater, 312 W. 36th St, NYC. Nov. 6–14. Mon., Wed., and Thu., 7 p.m.; Fri., 8 p.m.; Sat., 5 and 10 p.m.; Sun., 3 p.m. (212) 352-3101, (866) 811-4111, www.theatermania.com, or www.theactivetheater.com.