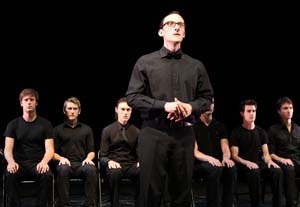 Stan Richardson's "Veritas" is based on the true story of a Harvard witch hunt undertaken against a group of gay students (and one tutor) in the spring of 1920, prompted by the suicide of another gay student. Though the show has a little trouble picking up speed, once it does, under Ryan J. Davis' imaginative direction, it packs quite a punch.
At first it seems as if Richardson will be satisfied with an earnest but rather staid docudrama approach, probably because he has so many characters to establish. But once the dead student's vengeful older brother sets the persecution in motion, Richardson and Davis start to cook, mixing in metatheatrics and musical commentary, among other devices, with highly effective theatricality. In particular, the way the fast-forward to the 1950s to look at what happened to everybody is handled is positively inspired.
The uniformly superb 10-person cast does faultless work, with Sam Underwood and Justin Blanchard standing out because they get to play that superb ending, as well as Doug Kreeger for his unsettling embodiment of the brother's visceral, all-consuming hatred.
With some work up top, "Veritas" could have a real future. 
Presented by Perkins 28 in association with Nathan Vernon and Deconstructive Theatre Project as part of the New York International Fringe Festival at Here Arts Center, 145 Sixth Ave., NYC. Aug. 20–28. Remaining performances: Sun., Aug. 22, 8 p.m.; Tue., Aug. 24, 4:15 p.m.; Thu., Aug. 26, 3:30 p.m.; Fri., Aug. 27, 5:15 p.m.; Sat., Aug. 28, 8 p.m. (866) 468-7619 or www.fringenyc.org. Casting by Daryl Eisenberg.