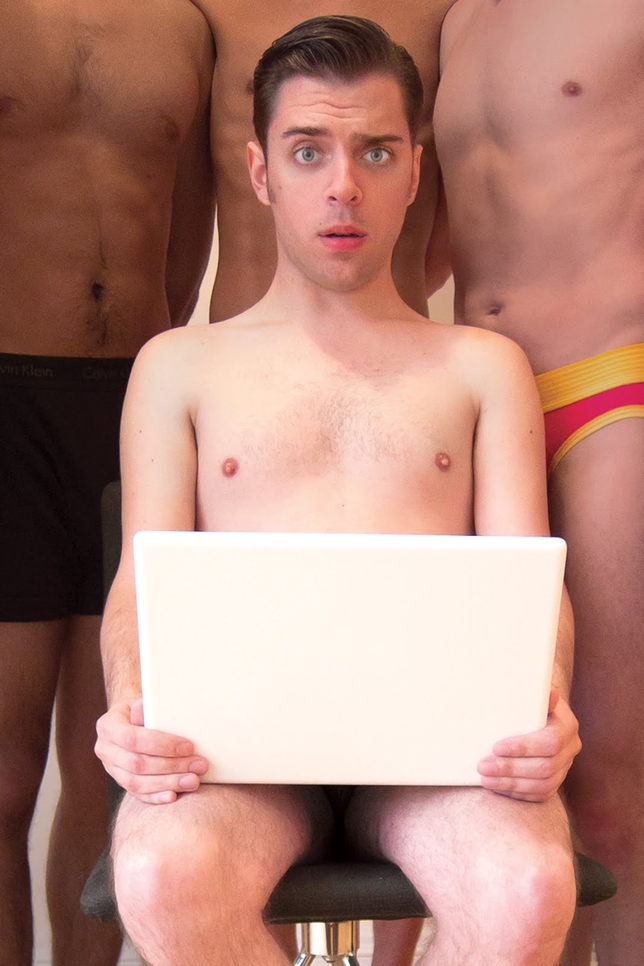 Twenty-six-year-old author-actor Lucas Brooks is also a professional sex educator, so it's no wonder that his first one-man show, "VGL 5'4" Top," would survey the subject of his fellow gay men and their amorous adventures. If Brooks' critique of the ways sex can divide the gay community can at times sound familiar in its observations and complaints, it still entertains, thanks to the tart wit of his script and the sexy charm of his delivery.
Brooks smartly structures the show around the act of filling out an online dating profile at "DickDetector.com." As he does everything from choosing a screen name ("BrightEyez...with a Z!") to detailing his preferences regarding sexual activity ("Top! Bold. Italic. Underline."), ample opportunities occur for riffing on everything from the endless varieties of gay male types ("Jock, Bear, Otter, Daddy, Boy Next Door, Circuit Boy, Theater Queen, Artfag, Gay-Lister, Disco Honey Badger") to some men's fixations on specific ethnicities to the 'tude tossed around in clubs. There's a funny decimation of the word "twink" and repeated obsessions with his vertically challenged physical status, which can lead men to think that he can't be dominant or prefers to be the receiver in bed, neither of which is the case.
Focused and engaged throughout the 45-minute show, Brooks unselfconsciously performs in nothing but shoes, socks, and underwear for most it, coming across both vulnerable and cheeky under Matthew Klein's fleet direction. Even as cues in Erin Breznitsky's crucial sound design were repeatedly flubbed, he carried on with determination, letting nothing interfere with his connection with the audience. Brooks treats his subject and its mechanics with welcome candor and has a refreshing lack of embarrassment for having had so many sexual partners that he long ago stopped counting their number. His musings on relationships are free of fantasy, and his accounts of several failed ones amuse. He ultimately decides that he's "got a lot of work to do on me before I can even think about we," but I'm not so sure about that. I'd call him a catch.
For his climax, Brooks recounts his first gay political protest, in 2008, at which he saw many familiar faces of men he knew only from their pictures on Internet sites joining together as brothers to achieve something greater than themselves. He laments the fracturing of community caused in part by no longer having to meet face to face in places such as bars to find a sexual partner (as a gay man old enough to be his father, I can only agree) and wonders when, if ever, that will change. Then he hits the return key on his laptop to send his finished profile. There's an interesting tension to that, and it makes a good button for this boisterously perceptive Frigid Festival entry.
Presented by Frigid New York at the Red Room, 85 E. Fourth St., NYC. Feb. 22–March 1. (212) 868-4444, www.smarttix.com, or www.frigidnewyork.info.
Critic's Score: B+