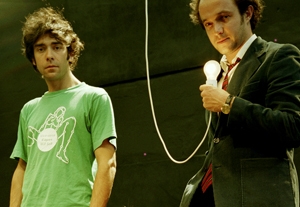 This contribution from France to the Under the Radar festival, by the ildi ! eldi collective, is a welcome gift that is both outrageous and inoffensive, the whole package being wrapped in Gallic charm. These 45 minutes of wonderful absurdity are based on an early novella, "Bull," by the English author Will Self, who is a talented shock-jock satirist on the contemporary British literary scene. "Bull" is the male half of the complementary duo of novellas "Cock" and "Bull," with "Cock" starring the woman as protagonist. The collective owes much to Self, as the tale it has chosen to adapt is a wildly original and witty farce about gender roles that reverberates with meanings for all.
Here the protagonist is John Bull (Francois Sabourin) (yes, Self is not always subtle with his satire). Bull is an amateur rugby player who writes cabaret revues. When he discovers a gash behind his knee, he visits his primary physician, Dr. Alan Margoulis (Antoine Oppenheim), who lies to Bull, telling him that it is merely "a wound and a burn." At this stage in the proceedings, the collective plays a teasing game with the audience by repeating the scene several times, each time adding a little more information until we--and Bull--are given the knowledge that the supposed wound is actually a vagina. The adulterous doctor suddenly sees opportunities both carnal and commercial, while Bull, at first uncomfortable with his additional orifice, begins to embrace its presence.
On a bare stage with just a table, chairs, and standing microphones, the play is delivered in French-flavored English that perhaps softens some of Self's necessary expletives while still giving us his witty wordplay. This is especially so from Sophie Cattani, who chirpily renders all the women in the play, as well as serving as a general chorus. Thus we learn that the doctor has taken "a hypocritic oath," and that Bull fearing that his original organ is being ignored, feels that his penis has "gracefully stepped aside, like a retiring diva introducing her successor to the adoring audience at La Scala."
Oppenheim easily conveys the world-weariness of a libertine, while Sabourin has a baffled sweetness that endears, and all the while thoughts of female victimization, macho males, Kafka, homophobia, and rugby scrums hang in the air. This gift from France remains light while still carrying a heavy purpose. 
Presented by the Public Theater as part of Under the Radar at Dixon Place, 161 Chrystie St., NYC. Jan. 6
–
15. Remaining performances: Sun., Jan. 9, 7 p.m.; Mon., Jan. 10, 7 p.m.; Thu., Jan. 13, 7 p.m.; Fri., Jan. 14, 7 p.m.; Sat., Jan. 15, 4 p.m. (212) 967-7555 or www.undertheradarfestival.com.