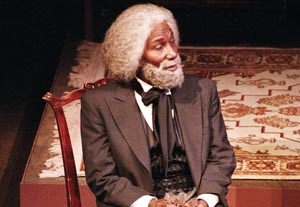 For a fascinating history lesson, check out Jonathan L. Davidson's "Victoria & Frederick for President," an informative if slightly uneven study of the 1872 presidential campaign of suffragette Victoria Woodhull, whose running mate was African-American abolitionist Frederick Douglass.
Davidson offers a sharp snapshot of a little-reported corner of American life. Immediately after the Civil War, there were robust equal-rights movements for women and blacks spearheaded by Woodhull and Douglass, respectively. To incumbent Republican Ulysses S. Grant, Woodhull's candidacy was an annoying distraction and a possible game-changer, because she had the potential to draw away much-needed black votes. Matters were complicated by the fact that Douglass was giving stump speeches for Grant. His nomination as Woodhull's vice president was made without his permission, and he never even met the woman until many years later.
The characterizations are surprisingly parallel to contemporary America, with Woodhull and Douglass sounding not unlike Hillary Clinton and Barack Obama in their cries for change. Director Charles Randolph-Wright gives us a brisk staging, highlighted by effective use of video projections. The eight-member cast is sturdy, with special kudos to Brenda Pressley, who gives an impassioned performance as Douglass' neglected wife.
The one caveat—and it's a major one—is Davidson's framing device of having a modern-age talk-show host, a descendent of one of the 1872 characters, open and close the play with flip monologues. These satiric speeches don't match the straightforward nature of the historic material, jolting us in and out of the Woodhull-Douglass scenes.
Presented by Moson Productions, Create Carolina Arts Festival, and Adrian Grenier as part of the New York International Fringe Festivalat the New School for Drama Theater, 151 Bank St
.,
NYC
.
Aug. 15
–
22. Remaining performances
:
Wed
.,
Aug. 19, 7:30 p.m
.;
Fri
.,
Aug. 21, 3:45 p.m
.;
Sat
.,
Aug. 22, 9:30 p.m
.
(
866
)
468-7619 or www.fringenyc.org
.