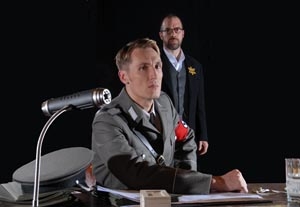 This is Back Stage's review of the show's original run at Teatro Circulo this past May
.
More than 75 years after Hitler's ascension to power in Germany, the portrayal of Nazis on stage and screen is arguably more difficult than ever. It's simply too easy for actors to play caricature, even if they don't intend to. The threshold for veracity is high.
This is one reason why Francisco Reyes' performance as the Commandant in Juan Mayorga's
Way to Heaven
(translated by David Johnston) is breathtaking. Mayorga's inspiration was the events at the concentration camp at Theresienstadt (also called Terezin), where the Nazis created a Potemkin village to dispel extermination rumors and mollify the Red Cross, which visited in 1944.
Mayorga toys with time in creative ways. The first scene is a monologue delivered by a Red Cross representative, played by Shawn Parr with an overgrowth of beard and clad in pajamas and a robe. The next scene presents a group of unnamed Jews—Sal Bardo as Boy #1, Sergio LoDolce as Boy #2, Spencer Oakes Dawson as Boy #3, Trae Hicks as He, Jennifer Vega as She, Emily Pote as She #2, and Samantha Rahn as the Girl—play-acting what some of the "scenes" at Theresienstadt might have been like when the Red Cross observed them.
The trouble at this point is that if you aren't up on the horror show that was Theresienstadt, there's not much narrative thread to clutch on to. Fortunately, Mayorga clarifies his structure by introducing a fictional man named Gershom Gottfried (hauntingly inhabited by Mark Farr), who is chosen by the Commandant to help create the content of the scenes. There is such electricity between Gottfried and the Commandant, the product of unspoken but palpable mutual hatred. While the Commandant speaks more often and at length, you always see Gottfried's pain and sense his ebbing humanity in Farr's face and eyes, especially when the Commandant forces Gottfried to choose just 100 Jews to "perform" for the visitors. You know what happens to the rest of them.
Though Reyes is tall as a tree, with a face that echoes the Aryan ideal, his performance is the antithesis of caricature, even when the Commandant, abundant in charm and unctuous to the extreme, quotes Spinoza, Shakespeare, and Pascal as if they were old chums. He's easy to loathe and impossible not to like—the quintessence of dramatic tension. Director Matthew Earnest builds the tension further by staging
Way to Heaven
in a rectangular space covered in dead leaves, each character's footsteps yielding innumerable crackles, filling our senses with reminders of how the Jews at Theresienstadt remained alive.
Presented by Equilicuá Producciones
at Teatro Circulo, 64 E. Fourth St
.,
NYC
.
July 30
–
Aug. 23. Wed
.–
Sat
.,
8 p.m
.;
Sun
.,
3 p.m
.
(
212
)
868-4444 or www.smarttix.com
.