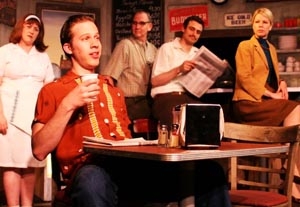 First evident inside the diminutive Spoon Theater is how splendidly set designers Jack and Rebecca Cunningham have created Foster's Diner, the setting of Mark Medoff's 1973 play
When You Comin' Back, Red Ryder
?. It's a sad, greasy outpost of culinary refuse, a relic of hip 1950s-style eating that was anachronistic by the end of the 1960s, when
Red Ryder
takes place.
As brought into focus by Kathryn Squitieri's costumes, the characters also seem stuck in Eisenhower-era amber: waitress Angel (Heather E. Cunningham) and her pink uniform, off-duty cook Stephen (Ben Schnickel) and his cool bowling shirt, diner owner Clark (Dave T. Koenig) and his flannel. Only Lyle (Richard Waddingham), operator of a nearby service station and frequent diner patron, seems timeless in nondescript shirt and slacks, though the brace he uses for balance belies the "infantile paralysis" of long ago.
Still, sepia hues are not the way
When You Comin' Back, Red Ryder
? drives drama. Just as some Harold Pinter plays are catalyzed by strangers upsetting a pre-existing condition, two couples arriving at the diner shocks it out of stasis. In walk Clarisse (Matilda Szydagis) and Richard (David Blais), New Orleans–bound marrieds pausing for a bite. Then Teddy (Christopher Patrick Mullen) and Cheryl (Casandera M.J. Lollar), demented menace and hippie girlfriend, arrive.
Medoff wrote a symphony of colorless cruelty: Teddy berating the diner regulars until they accede to his will, placing bullets in Richard's arm, bullying Stephen about his sexuality. It's a play about the rich core of fear; how the simple folk who symbolize America's goodness are so easily made vulnerable by the guileful and crafty. Ric Sechrest's production puts all of this across wonderfully. The actors, however, begin the play not quite on board.
Cunningham, for example, clearly understands everything Angel feels, especially regarding her unrequited love—affection, at least—for Stephen, who calls himself Red Ryder. Nevertheless, she hasn't knitted these emotional choices into a whole waitress. Schnickel is aloof, snide, arch, bitter, and frightened—why doesn't his Red Ryder feel like the real victim of the play? He's more like the Bystander Who Should Have Left Before Teddy Showed Up. It's not a joke: Mullen is so monstrously terrorizing as Teddy—a horror show of a human—it's a wonder he didn't bite through the set.
Well, if it sounds like Retro Productions missed the mark, not so. Mullen's acting turns so scorching in Act 2 that out of sheer energy he raises the cast's game: watch Waddingham wrest suspense out of quiet moments. Using the stage economically, Sechrest also adroitly finesses some blocking challenges, like convincing us that Teddy can set his gun in his rear waistband and no one will grab it. In fact, it's visual reinforcement that it's the end of an era: a diner that will never be the same.
Presented by Retro Productionsat the Spoon Theater, 38 W. 38th St
.,
5th floor, NYC
.
May 7
–
23. Mon
.,
Wed
.–
Sat
.,
8 p.m
.;
Sun
.,
2 p.m
.
(
212
)
352-3101
, (
866
)
811-4111, www.theatermania.com, or www.retroproductions.org
.