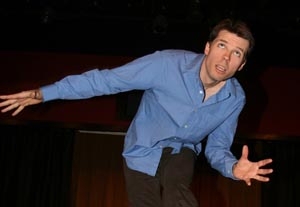 Writer-performer Owen Dara's stage adaptation of his memoir of the same title is charming but a bit familiar, ending up something of a mixed bag.
"I was thinking of calling my book 'Owen's Ashes,' " Dara tells the audience, alluding to the surprise that none of the children died and everyone had shoes in his early childhood home by the sea. Things got worse after Dad's pottery business went under, though, and the family was force to move to a rented house in Cork City.
Dara has a contagious smile, and his impressions are funny, but the material about his mistreatment by the Catholic Church, teenage rebellion, and forgiving your parents is standard stuff. However, comic remembrances of his fear that his depressed father wanted to exchange physical parts of himself with those of his son—because Dad would say things such as "Give me that face, and you'll get the back of my hand"—are fresh and winning. Dara's also written some songs, which work best when they're funny.
Unfortunately, Dara never does tell us what he makes of his life. For that you must read his book—or at least his bio.
Presented by Breaking Tide as part of the New York International Fringe Festivalat Manhattan Theatre Source, 177 MacDougal St
.,
NYC
.
Aug. 15
–
30. Remaining performances
:
Tue
.,
Aug. 25, 9 p.m
.;
Thu
.,
Aug. 27, 7:15 p.m
.;
Sun
.,
Aug. 30, noon
.
(
866
)
468-7619 or www.fringenyc.org
.