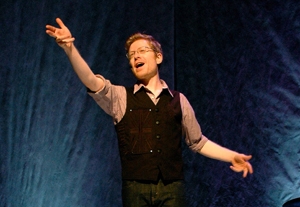 Anthony Rapp is best known for originating the role of underground filmmaker Mark Cohen in the Broadway hit "Rent"—from the 1995 workshop production of Jonathan Larsen's musical through its incarnations at New York Theatre Workshop, at Broadway's Nederlander Theatre, in London and Chicago, and even in the 2005 film version, directed by Chris Columbus. To be involved with such a meteoric success would certainly be considered the best of times for an actor. But in "Without You"—which is based on his 2006 memoir—Rapp reveals that the late 1990s was also a time of great personal loss.
In 1995, Rapp is a typical struggling New York actor landing a role in a little-known musical. Around the same time, he discovers that his mother has been struggling with cancer back in his hometown of Joliet, Ill. Thus the show's parallel paths are laid out: As Rapp's theatrical star rapidly rises, his mother's health slowly deteriorates. But there is other loss as well: Larsen, his new friend and mentor, dies suddenly the night before the musical's Off-Broadway opening.
Rapp is an engaging storyteller and singer. He gives you a sense of what it was like to be at the center of a production suddenly exploding into prominence. He also does lively impressions of the people involved in the show's genesis, from the quirky Larsen to director Michael Greif and castmate Adam Pascal. And he clearly conveys what he was going through—rushing back and forth to Joliet to be at his mother's side, the closeness of their relationship, even how his mom dealt with his homosexuality.
Fans of Larsen's work will get a thrill watching up close as Rapp does partial or full versions of 11 songs from the score. But the reliance on Larsen's words and music has a negative effect as well. Rapp wrote the lyrics for the six original songs in the show and composed the music with David Matos, John Keaney, and Joe Pisapia. All of these songs are solid, well-arranged, and well-performed by the five-piece band. But none is nearly as engaging or evocative as Larsen's work, and they seem especially weak when heard side by side.
Presented by Royal Family Productions and the New York Musical Theatre Festival  at TBG Theatre, 312 W. 36th St., NYC.  Sept. 29–Oct. 9. Remaining performances: Wed., Oct. 6, 4:30 p.m.; Thu., Oct. 7, 8:30 and 11 p.m.; Fri., Oct. 8, 11:30 p.m.; Sat., Oct. 9, 5 and 9 p.m.  (212) 352-3101, (866) 811-4111, www.theatermania.com, or www.nymf.org.