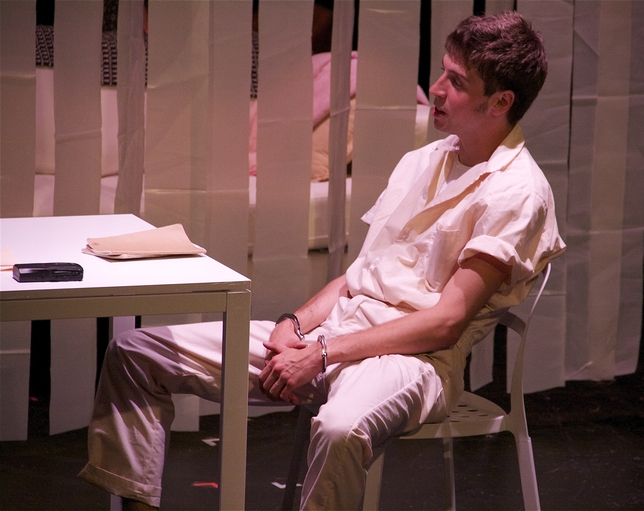 The title says it all. What "Would" life have been like for imprisoned murderer Daniel if he had not, at age 14, been condemned to two life sentences without parole? David Marx's telling and absorbing epistolary work angles back and forth between Daniel's fantasy existence, via pen-pal letters to Alexa, and interviews conducted in jail by psychologist Bryan.
Based on an actual case, "Would" gains in power as it progresses. "When did you feel happy?" Bryan asks Daniel as they begin their interviews. Agreeing to ask each other questions, they build trust and begin to separate reality from the fabricated fantasy of Daniel's wishes. The emerging backstories are clear-eyed and unsentimental.
Molly Lyons' direction, in spite of awkward set changes, is perceptive, as is the acting: Jeremy Kahn as Daniel, Dan Wilson as Bryan, and Amanda Lipinski as Alexa. Told against a montage of family home movies, "Would" is promising work.
Presented by Broken Ant Farm Productions as part of the New York International Fringe Festival at the New Ohio Theatre,154 Christopher St., NYC, Aug. 12–25. Remaining performances: Wed., Aug. 15, 5:15 p.m.; Fri., Aug. 17, 9:30 p.m.; Fri., Aug. 24, 5 p.m.; Sat., Aug. 25, 2:30 p.m. (866) 468-7619 or www.fringenyc.org.
Critic's Score: A-