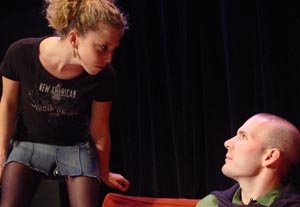 That David Allyn's new hourlong play
Writers Colony
is the first offering of the 2009 Fresh Fruit Festival may just be happenstance. Even so, it certainly isn't a case of putting your best foot forward.
Allyn's play seems to have shed its subtitle included in advance press releases, "A Play on Words." It's a revealing moniker, because
Writers Colony
, which purports to dramatize the zany sexual and backstabbing shenanigans among the denizens of its titular institution, seems utterly unconcerned with such dramatic niceties as believable plot, consistency of character, or genuine emotion. Instead, Allyn keeps making what Edward Albee once termed "a lunge toward an epigram": It's all about the jokes. It's unclear whether Allyn intends to write a sophisticated comedy or an outrageous satire, but his play works as neither. He would be wise to study some Christopher Durang or Jules Feiffer plays to see how even the most outlandish writing must be grounded in emotional truth in order to work.
Five of the six-person cast are Equity members, but that hasn't stopped all of them from mugging and indicating shamelessly, resulting in wholly unpersuasive performances. No doubt they were encouraged by director Jay Aubrey. It's obvious we're in trouble right from the top, when Aubrey directs an actor, as a result of being startled, to "accidentally" raise a wastebasket he's carrying above his head in order to dump its paper contents on the character. It's a strained attempt at physical comedy that sacrifices believability for a laugh—one it doesn't get.
Allyn's program bio is full of promising credentials, including a playwriting award, but his primary accomplishments appear to be as a prose humorist. He wouldn't be the first of that ilk to lack the playwriting gene. But even if he's the next Oscar Wilde, the Fresh Fruit Festival has done him no favor by presenting work in this condition to paying New York audiences and invited critics. The Fresh Fruit folks would do well to remember that in the theatre, as in medicine, the first rule is do no harm.
Presented by the 2009 Fresh Fruit Festivalat the Hudson Guild Theater, 441 W. 26th St
.,
NYC
.
July 14
–
17. Remaining performances
:
Wed
.,
July 15, 9:30 p.m
.;
Thu
.,
July 16, 9 p.m
.;
Fri
.,
July 17, 8 p.m
.
(
212
)
352-3101
, (
866
)
811-4111, or www.theatermania.com
.