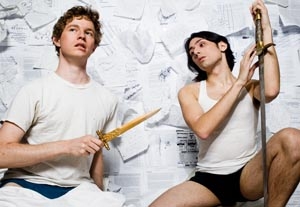 There's a reason Ian Fleishman's brain is so often the object of his prospective boyfriends' lust. Written and acted by Dan Fishback, Ian's observations on everything from Judaism and gay marriage to the Iraq war and the White House help line are consistently sharp, funny, and endearingly off-kilter.
Ian's take on being a gay Jewish 25-year-old living in New York City -- told from his bed, as he feels too sick for work every time he thinks about going -- is surprisingly fresh to begin with. But the play vacillates, sometimes awkwardly, between the contemporary story and a second plot line in which Fishback appears as a young Judah Maccabee, the heroic leader associated with the Chanukah story. Fishback presents Judah as a gay teenager whose fear of swords amusingly contrasts the legendary warrior status he will grow up to acquire.
As Judah's best friend, Ezra -- they swoon over imaginary lovers together in a "fantasy boyfriends" game -- Max Steele's baby talk and desperate chattering vividly call to mind poorly maneuvered adolescent overtures. Ezra tangles with invading Greek warrior Demetrius, aka Hot Soldier (a scene-stealing Joseph Keckler), who seduces him with a deep monosyllabic baritone, a slow swagger, and the prospect of naked wrestling. Under director Stephen Brackett, all are on the edge of caricature.
In text and performance, Fishback can get strident, with a wide range of strong, outraged opinions. But he tempers this tendency through humor, as when Ian compares an Internet boyfriend to the Jewish conception of god. Ian is also touching in his nostalgic paper-hoarding and especially in a candid monologue about loneliness.
The ancient Jerusalem story is less compelling than what Fishback says as Ian. His musings overshadow the mostly predictable development in the boys and their friendship. In the end, it's still that brain that draws attention.
Presented by and at Dixon Place
,
161 Chrystie St
.,
NYC
.
April 10
–
22. Tue. and Wed
.,
8 p.m
.;
Fri. and Sat
.,
10 p.m
. (
No performance Tue. and Wed
.,
April 14 and 15
.) (
212
)
219-0736 or www.dixonplace.org
.