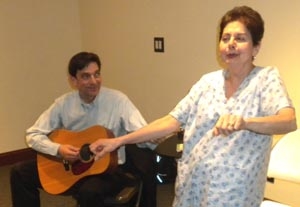 Is there any stereotype more exhausted than the overbearing mother? After the portrait of Joan Crawford in "Mommie Dearest," it seemed we needed to explore the topic no further. But Bill Rutkoski's superficial comedy "You'll Be Happy When I'm Dead" incomprehensibly attempts to center a full-length work on that tired cliché.
The play follows brothers Bob (Rutkoski) and Jimmy (the author's real-life brother Mike Rutkoski) as they pay several reluctant visits to their aging mother, Dorothy (Nina Rochelle). In her small apartment, decorated in equal parts with crucifixes, old stuffed animals, and family photos, they tediously banter back and forth, the boys petulantly countering their mother's classic refrains: "You should get married." "You never visit." "You'll be happy when I'm dead."
In the program notes, the author dedicates "You'll Be Happy When I'm Dead" to his own mother, who clearly served as the inspiration for Dorothy's many eccentricities. But the autobiographical element in the play seems too close to the surface; much of the dialogue seems to have been pulled at random from Rutkoski's life and conversations, without attention to how it might serve the play as a whole. I often have ideas I personally find hilarious, but I don't drop them into a play. Not so Rutkoski, who includes so many dead-end non sequiturs ("Did you ever think about who names city streets?") that much of the script seem more like a standup act than a composed comedy.
This is made more disappointing by the fact that Rochelle can be a genuine hoot. The way she delivers Dorothy's rasping put-downs, followed by an innocent, wide-eyed "Who, me?" stare, perfectly captures the qualities of the domineering mother: at fault and unwilling to accept any blame. At times, Rochelle literally throws herself into the performance, as when Dorothy dances along with Bobby's guitar, her hips jerking and her limbs flailing in a display of devil-may-care gracelessness. This moment gets one of the wildest responses from the enthusiastically welcoming audience, whose warm reception is less surprising given that Aching Dogs Theater was created by the New York Hotel Trades Council as an opportunity for hotel and restaurant workers—so often performers by night—to showcase their talents.
Particularly hilarious is Dorothy's heated exchange with her sister Sunny (an overly animated Joan Porter), in which each attempts to one-up the other in a comparison of medical ailments. Sunny counters Dorothy's cirrhosis with her severe potassium deficiency. "I have to eat 16 bananas a day!" she wails.
But except for these moments, the cast is barely present. As Bob, Rutkoski is alternately bored and passively indignant. As the 43-year-old inert stoner Jimmy, sibling Mike is not exactly lively. Neither character has any compelling backstory or defining quality, other than the frustration that their mother induces, which leaves the production without any forward motion. Clumsy direction by Don Creedon amplifies this problem, which leaves viewers adrift, with no through-line or expectation except for the vain hope that Dorothy might dance again.
Presented by Aching Dogs Theatre and Hit & Run Productions at the Producers Club, 358 W. 44th St., NYC. June 8–19. Wed.–Sat., 8 p.m.; Sun., 3 p.m. (212) 868-4444 or www.smarttix.com.