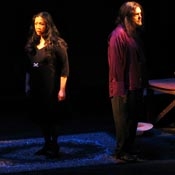 When it premiered on Broadway in 1973, Tennessee Williams' Out Cry closed after only 12 performances. This revival by National Asian American Theatre Company, despite intriguing casting, offers little evidence that its fate was unwarranted.
The play explores the porous boundaries between reality and fantasy, or real life and theatre, all in the shadow of inevitable mortality. There are passages that echo the searing poetic poignancy of Williams' greatest plays, but more often the writing is labored and redundant, muddling the themes. Two actors, Felice and his sister, Clare, are stranded in a theatre in a foreign country, abandoned by the rest of their company, who've declared in a farewell telegram that the pair is insane. Fulfilling their commitment, the two perform a play by Felice titled The Two Character Play, portraying reclusive siblings sequestered in the family home, where father has murdered mother and then committed suicide. Are they performing a play or acting out their lives? The play gives no grounding to what transpires on stage, with the result that the melodrama quickly becomes hollow.
At one point in the script, the play within the play is described as "a tour de force...more like an exercise in performance by two star performers than like a play." That might be true of Out Cry as well; dazzling star personas might -- possibly -- override the script's flaws. The two performances here, while deeply felt, are not of that particular magnitude. Eduardo Machado, best known as a playwright creating compelling works about his native Cuba, invests Felice with honest simplicity, which makes for some touching moments but hardly suggests the character's flamboyance. As Clare, Mia Katigbak, NAATCO's artistic director, attacks the role with flair but fails to engender sympathy for the woman. Thom Sesma's direction, along with the physical production, effectively sets the play's ominous tone but rarely varies from it.
As a Williams aficionado, this reviewer is loath to say that any work by this great playwright should be ignored, but perhaps it might be best to let Out Cry rest in peace.
Presented by the National Asian American Theatre Company
at Abingdon Theatre, 312 W. 36th St., NYC.
Dec. 4–21. Tue.–Sat., 7 p.m.; Sun., 3 p.m.
(212) 868-4444 or Smart Tix