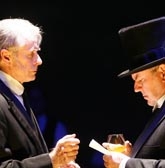 In the first scene of Richard F. Stockton and Richard T. Herd's historical drama, a Welsh sentry (Patrick Fitzgerald) describes the play's central figure, Sir Roger Casement, as "an Irish patriot or an English traitor, take your pick." No prizes for guessing which side the Irish Rep's production comes down on. Prisoner of the Crown is an engrossing and solidly acted, if rather old-fashioned, brief for the defense.
Knighted for his work exposing human-rights abuses in the Congo and Peru, Casement was imprisoned in the Tower of London for trying to secure German support for Irish independence during World War I. Although his attempt to recruit Irish POWs for an anti-British brigade failed, the Germans did offer the Irish a modest number of rifles and machine guns, clearly foreseeing a military advantage in a possible Irish uprising. Because British laws against treason referred only to actions taken within Britain, the prosecution was forced to a tortuous reinterpretation of a medieval law, written in Norman French, whose meaning ultimately rested on the placement of a single comma. But the Crown's greatest stroke of luck was the discovery of Casement's diaries, which alluded to numerous sexual encounters with teenage boys. Although the diaries were never admitted as evidence, word of their contents quickly spread and was used by the prosecution to undercut Casement's image as a high-minded Irish martyr. Casement was hung for high treason in 1916.
Director Ciarรกn O'Reilly adds a few stylized touches around the edges, particularly during scene transitions, but for the most part this is straightforward, socially conscious docudrama, with its tense jury-room scenes strongly reminiscent of Twelve Angry Men. The actors all distinguish themselves in multiple roles, though the most rousing moments come courtesy of John Windsor-Cunningham as Casement's principal tormentor and Tim Ruddy as his passionate defense attorney. Curiously, Philip Goodwin isn't given much to do as Casement beyond mouthing the requisite patriotic rhetoric. Most of the action takes place around or in response to him, and once he's arrested he becomes a supporting character in his own story.
Presented by and at the Irish Repertory Theatre,
132 W. 22nd St., NYC.
May 22-July 6. Wed.-Sat., 8 p.m.; Wed., Sat., and Sun., 3 p.m.
(212) 727-2737.