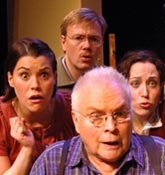 Sexual frustration and attempted murder are the big items on the holiday menu in Alan Ayckbourn's black farce Season's Greetings, which is being given a spunky if not very sparkling revival by Hudson River Repertory Company. The prolific and celebrated Ayckbourn has written more than 70 full-length plays. While Season's Greetings, first produced in 1980, isn't among the British playwright's most inspired, each of its two acts builds to riotously funny conclusions. However, getting there involves some lackluster stretches, and the uneven company assembled by director Laurie Eliscu doesn't really enliven them.
Ayckbourn's known for exposing the foibles of the English middle class, and this piece follows suit, detailing the calamities that befall the extended family gathered to celebrate Christmas at the suburban home of successful shopkeeper Neville and his wife, Belinda. The group includes bellicose Uncle Harvey; Neville's pub pal Eddie; Eddie's glum, ever-pregnant wife, Pattie; Bernard, an ineffective physician; and Bernard's tippling wife, Phyllis. There are numerous children we hear about but never see. A lot of bickering goes on among these folks, but the major catalyst for disaster is Clive, a novelist who arrives as a guest of Rachel, Belinda's sister. Clive quickly brings to a boil the sexual longings of Belinda and Phyllis as well as the near-fatal suspicions of Harvey.
For the most part the company seems intent on playing the show for surface laughs, rarely intimating the darker interiors of these conflicted people. Unfortunately, that's where the deeper humor of the script lies. However, James Weatherstone as Neville neatly limns the smug charm of a man willing to overlook his wife's transgressions to maintain the status quo, and Foster Davis is a credible Clive, caught up in circumstances beyond his control. Jody Eisenstein engenders some sympathy for Rachel, despairing over the platonic nature of her relationship with Clive.
Kyle Dixon's set looks appropriately festive but doesn't quite master the complex spatial and technical demands of the production, which even has the walls of the home falling away at the final fade.
Presented by Hudson River Repertory Company
at the McGinn/Cazale Theatre, 2162 Broadway, NYC.
Nov. 22-Dec. 7. Thu.-Sat., 8 p.m. Sun., 5 p.m. (No performance Thu., Nov. 27; additional performance, Mon., Dec. 1, 8 p.m.)
(212) 352-3101, (866) 811-4111, or www.theatermania.com.