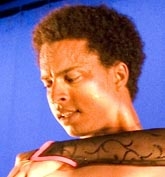 Commendably danced by his chamber ballet company, Sensedance, this program of nine pieces of Henning Rübsam's choreography proves disappointingly tame, derivative, and dated.
The evening's strongest work choreographically is "Cloudforest," a large group piece set to a collage of lush music, the romanticism of which is mirrored by well-orchestrated ensemble activity. The lifts, lyricism, and continuous flow of the dancing align appealingly with the big swells and soaring melodies of the music.
Most arresting, however, is the mysterious duet "Caves," featuring a sleek performance by Maria Phegan. Stunningly costumed in a lacy black unitard, she is solidly partnered by Dartanion Reed, whose formidable presence slyly complements her strident style and angular, insect-like creeping movements.
In the program's other duet, "Amaranthine Road," Rübsam tries to break the rules of the classical ballet lexicon with hip thrusts, flat-footed chainé turns, and various parallel leg positions. While the intent is admirable, the effort falls short of being interesting and doesn't go far enough to be daring.
Two ensemble pieces book-end the show's first half with pleasant yet seemingly pointless choreography. The opener, "(Suite From) Merciless Beauty," amalgamates five aesthetically unrelated little dances. The mood is sometimes playful, otherwise strictly Balanchinean, and on one occasion journeys into the realm of satiric German cabaret. "Inter-Mez-Zo" is a ballet of the lots-and-lots-of-steps variety. It's the kind of work dancers love — because they get to perform all the movements they've practiced for years in daily technique classes — yet it's not the sort of ballet that makes any memorable choreographic statement.
Completing the program are four solos: two spare, modernistic pieces danced in front of colorful painted backdrops, which might have been striking in a pre-Nikolais era; a bland dance titled "The Secret," for no apparent reason; and a joyful hornpipe-like romp performed by Rübsam.
Presented by Henning Rübsam: Sensedance at the Ailey Citigroup Theater,
405 W. 55th St., NYC.
Nov. 8-11. Mon., Tue., and Sat., 8 p.m.; Sun. 7 p.m.
(212) 868-4444 or www.smarttix.com.