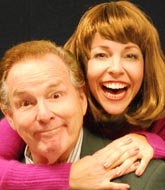 Sometimes on-the-nose casting can be a show's downfall, and such is the case with Matt Prager's new satirical Kathie Lee Gifford bio musical She Can't Believe She Said That! Heather Laws (Amy from the recent revival of Company) is so adept at lampooning everyone's favorite love-to-hate-her talk-show personality that the balance of the whole show is thrown off.
From the moment she appears doing a wildly over-the-top rendition of "Let My People Go" at an audition, Laws owns the stage. And as Gifford's career highlights are ticked off — Name That Tune, Live! With Regis and Kathie Lee, the Cody stories — Law's rubbery face and pitch-perfect performance turn Kathie Lee into the kind of perkily befuddled woman audiences can't help but root for.
So it's an unwelcome surprise when, in the last 15 minutes of She Can't Believe She Said That!, the script suddenly has Kathie Lee realize that she is, in fact, just a big phony, despite a song from Frank Gifford (Rob Sheridan) and Regis Philbin (Charles Karel) about how she's made their lives better. We're left confused and a little annoyed that the goofy woman we've been laughing at and with suddenly claims that fame for fame's sake is all she's ever wanted and all her defenses against her critics were just self-delusion.
Unfortunately, the rest of the cast is as mediocre as Laws is hilarious. Struggling with their lines and their vocal parts, no one in the ensemble stands out save Paul Anthony Stewart, who strips down to his underwear as a horny Larry Gatlin. And while some of the songs sprinkled throughout the show are funny — particularly "More Christianer Than You" and the title song — most of them feel like padding. In fact, without Laws' performance as an anchor, She Can't Believe She Said That! would collapse in on itself like Kathie Lee's sweatshop-manufactured clothing line.
Presented by She Can't Believe as part of the New York Musical Theatre Festival
at TBG Theatre, 312 W. 36th St., NYC.
Sept. 27-Oct. 5. Remaining performances: Mon., Sept. 29, 8 p.m.; Wed., Oct. 1, 4:30 p.m.; Sat., Oct. 4, 4:30 p.m.; Sun., Oct. 5, 1 p.m.
(212) 352-3101 or (866) 811-4111 or www.theatermania.com or www.nymf.org.
Casting by Judy Bowman.