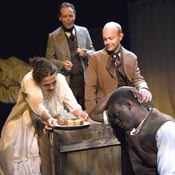 Playwright Thomas Bradshaw is on to something in Southern Promises. This 80-minute piece is a provocative satire on a serious, still-relevant topic. Politically incorrect language, explicit murderous violence, and graphic simulated sex — along with a lot of improbable laughs — keep the linear narrative of a seemingly simple story going in the guise of a drama.
It's antebellum Virginia, and a benevolent slaveholder on his deathbed (Peter McCabe) has decided to free his slaves. His widow (Lia Aprile) refuses to emancipate her property, however, in spite of entreaties from her dead husband's abolitionist brother (Jeff Biehl). She also forces the chief house slave (Erwin E.A. Thomas) to service her regularly. The brother, long in love with the widow, agrees to let her keep the slaves if she will marry him. She does, and he then proceeds to enlist the chief female house slave (Sadrina Johnson) into his sexual service. Miscegenation ensues, as does murder.
That's the underbelly of this tale of exploitation, promised freedom, and eventual escape, told in short scenes that almost seem like sketches. Despite the sprawling topic, director Jose Zayas has infused the proceedings with a brisk unity on a tiny stage. The cast, surely all of them playing way against type, is excellent. Biehl has the showiest part, overtly evil and frequently changing his position on slavery, but Hugh Sinclair is his equal as a hypocritical pastor who could stand for his type in at least three different centuries. A special bow should go to dialect coach Maggie Surovell, who has coaxed authentic generic Southern accents of the period from all her actors. (While the accents are chillingly race-specific, they are not Virginia-specific.)
Bradshaw has based this work in part on a true story from The Great Escapes, a series of slave narratives. But the big picture of the Old South and its racist legacy is all his — and it's a killer.
Presented by and at Performance Space 122,
150 First Ave., NYC.
Sept. 8-27. Sun. and Mon. 7 p.m.; Wed.-Sat., 8:30 p.m. (No performance Mon., Sept. 15, and Wed., Sept. 24.)
(212) 352-3101 or (866) 811-4111 or www.theatermania.com or www.ps122.org.