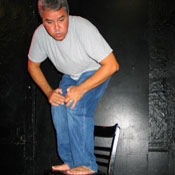 The clever title of Gerard Karabin's play is mightily misleading: It has nothing to do with bathing suits and the male bodies that fill them. It's not giving too much away to announce that Speedo is a mouse, and quite a lot of this one-man show is addressed to said Speedo. If Steinbeck had not already used it, Of Mice and Men would be a truer title. Speedo & the Straight Man is yet another examination of a gay man's coming to self-awareness. As part of the 2008 Frigid New York festival, the piece is a muddy 50-minute cry for compassion performed by Lucio Fernandez and directed by Peter A. DuBo ́.
Playwright Karabin has little to add to the genre. His Latino protagonist, Gerry, was dressed as a girl when young, and has a crudely macho and abusive father. Gerry has a meltdown while playing Little League; he escapes from home at 16; his best friend, José, has changed his sex to become Joanna, who is consistently being beaten up; Gerry becomes a despairing drunk while aspiring to become a poet. Yes, there are so many stereotypes here they practically trip over each other.
The melodramatic writing allows Fernandez no nuances as distraught Gerry goes from one crisis to another. The script is clogged with clichés: "I feel so dirty," said when taking a shower; that old standby, "Why do I exist?"; and the crowning glory, "Am I a man or a mouse?" There's a particularly painful portion in which a drunken under-the-table Gerry urges Speedo to drink with him. If Speedo had been allowed to speak, I'm sure he would have brought some fresh-air sanity into these overwrought proceedings.
Presented by MeLu Communications Group as part of Frigid New York
at the Kraine Theater, 85 E. Fourth St., NYC.
Feb. 29-March 8. Remaining performances: Mon., March 3, 9 p.m.; Thu., March 6, 10:30 p.m.; Sat., March 8, 5: 30 p.m.
(212) 868-4444 or www.smarttix.com.