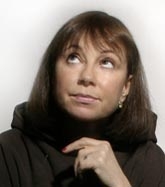 Writer-performer Jennie Franks' Stuck! could have been the quintessential New York story. The heroine, scheduled to meet her husband for lunch, stops to use the bathroom facilities at a Starbucks (or Starbucks look-alike). She is directed to the basement, where she finds a scrubby, filthy storeroom with cleaning supplies and an unappetizing toilet. As the toilet does not flush, the previous user has left his calling card. Ugh! Gross! To top this, she is locked in and no one hears her cries.
Such is the introduction, and it is downhill from there on. If there is any redeeming moment, it is the instant in which the heroine, dubbed Kiki, drops her cell phone into the toilet. We can all imagine what that might be like.
Along the way, Kiki bemoans her marriage, her friendships, and her existence in general, turning from her immediate plight to a broader consideration of life. Her state of mind moves from annoyance to impatience, impotence, despair, resignation, and fantasizing. It's likely that anyone who is imprisoned would experience a similar range of emotions, but nothing in this particular portrayal is convincing.
Stuck! never becomes the clever, poignant piece it might have been had only humor, drama, or both been employed. Franks' writing and performance make for a decidedly amateurish effort. Excrement is the metaphor here, and it serves as a critical statement as well. This self-serving, self-indulgent effort doesn't belong on the stage.
Presented as part of Frigid New York
at the Kraine Theater, 85 E. Fourth St., NYC.
Feb. 27-March 9. Remaining performances: Wed., March 5, 7:30 p.m.; Fri., March 7, 9 p.m.; Sun., March 9, 1 p.m.
(212) 868-4444 or www.smarttix.com.