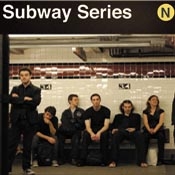 Most improv troupes stick to tried-and-true games and gimmicks that keep audiences engaged and laughing. It's a practical decision because it's often the only sure-fire way to continue to attract audiences and pay the rent. The members of NewFormat Improvsation are interested in something a little more complicated, however. At the beginning of Subway Series, the five performers -- Janus Surratt, Jeff Stevens, Dan Levy, Greg Moss, and Cole Stitelman -- still make an overture of connecting with the crowd by going out into the house and trading personal objects of their own for personal objects from audience members. But once they return to the stage wearing the borrowed hats, scarves, bracelets, watches, and more, it's unclear how these props figure into the overall picture.
After miming a trip on the subway -- dodging other riders and genuinely looking annoyed -- the performers again leave the stage and begin having a conversation with audience members. They announce newly gleaned info so that two of them can strike up a spontaneous conversation with each other. It soon becomes a jumbled mess, and we lose any thread of a through-line that might hold the performance together. The group then clumsily segues into a series of improvised skits -- meandering from a move-in-day scene to random word association -- in which familiar details continue to reappear but with an unclear purpose.
Lacking humorous or poignant moments, the actors eagerly -- and at times expertly -- engage in an insulated improvisational world that doesn't seem to be intended for audience pleasure. It's as if we're witnessing improv training games -- just a little more intellectual and obscure than the usual potty humor that crops up in drunken club settings. I'm not one to advocate for more structure for something that aims to be spontaneous, but if the focus would have remained on a subway ride, with all its inherent potential, Subway Series would have had a greater chance of success.
Presented by NewFormat Improvsation as part of Frigid New York
at Under St. Marks, 94 St. Marks Place, NYC.
Feb. 28-March 7. Remaining performances: Sun., March 2, 7 p.m.; Tue., March 4, 9 p.m.; Wed., March 5, 10:30 p.m.; Fri., March 7, 9 p.m.
(212) 868-4444 or www.smarttix.com.