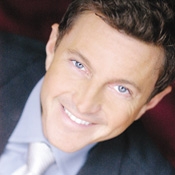 The first laugh I got from The 1959 Broadway Songbook was due to artistic director, host, and singer Jeff Harnar's opening rendition of the Stephen Sondheim-Leonard Bernstein "Tonight" from West Side Story. The chortling resulted from my instantly realizing that WSS was a 1957 show. But wait. I'd been rash to yuk that ironic yuk to myself, because almost immediately Harnar explained that the program would include songs from shows that were running in 1959 without regard to when they opened. This distinction was, I assume, meant to distance the format from Scott Siegel's smart and extremely successful Broadway by the Year series. In my mind, it didn't.
What can unequivocally be said about the Lyrics & Lyricists frame over which Harnar presided and which he co-wrote with Sara Louise Lazarus is that it was suavely directed by Lazarus and admirably sung by Harnar and by the golden throated Sarah Uriarte Berry, the silver-throated David Burnham, and the brass-belting Sally Mayes. You couldn't fault a one of them for their interpretations or, for that matter, special guest Donna McKechnie's. These days she sings with much more self-assurance than she did in her tuner salad days.
Unfortunately, this is where the encomia stop. The show itself -- while obviously pleasing the graying 92nd Street Y audience -- was something of a trial. Harnar-Lazarus had the numbing notion to take those anything-on-the-1959-boards items and insert them in a made-up plot, the type of which might be found during those supposed Golden Age of Musical Comedy years. You know the brand of boy-meets-girl-boy-loses-girl-boy-gets-girl-cum-matching-secondary-comic-plot outline.
But why (oh, why) extract numbers from productions as varied and exhilarating as Gypsy, My Fair Lady, The Sound of Music, Fiorello!, The Music Man, Once Upon a Mattress, the nearly forgotten Redhead, and several others only to plug them into a generic story line? My only thought about the origin of this cockeyed notion was that Harnar, who's done much shipboard entertaining, had succumbed to cruise-line programming -- let's reassure, not challenge or possibly puzzle the auditors -- and Lazarus had gone along with him.
A worse affliction that hit the enterprise was how too large a percentage of the songs were treated. Once ditties were selected for inclusion, they were truncated for medleys. This was an all-but-unforgivable gaffe -- and the all-but is a kindness. The scurrilous tactic led to some of the best and often least well-known of the songs starting -- to a show-score-lover's delight -- and then being cut off in their prime. The slicings that had me ballistic were the short shrift accorded "Spring Can Really Hang You Up the Most" (Fran Landesman-Tommy Wolf) from the influential The Nervous Set and "I Never Know When" (Walter and Jean Kerr-Leroy Anderson) from Goldilocks. I'm also wondering why anyone who respects a lyric can leave out the stunning line "It's the unrest inside me" from "I Wish It So," a high point of Marc Blitzstein's Juno.
Whenever someone had a chance to sing a song from beginning to end, the result could be uninterruptedly glorious -- as it was when Sally Mayes ruminated over Billy Barnes' melancholy "Too Long at the Fair" from Billy Barnes Revue and Harnar upper-English-accented the Michael Flanders-Donald Swann "Madeira, M'Dear" from At the Drop of a Hat. Let's hope the Lyrics & Lyricists deciders -- these days looking around determinedly to refresh a long-running house attention-getter -- don't try something like this again.
Presented by and at the 92nd Street Y,
1395 Lexington Ave., NYC.
May 3-5.