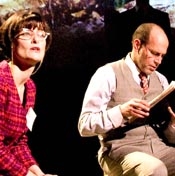 This improbable brew of history spanning the years from La Belle รpoque to the Weimar Republic, Dada-inspired visuals, and a score incongruously suggesting both Kurt Weill and the Grand Old Opry adds up to an extraordinarily moving evening. First presented at the 2004 New York Musical Theatre Festival and named for the 18th-century symbol representing the search for artistic perfection, The Blue Flower is the creation of talented husband-and-wife team Jim and Ruth Bauer, he credited with songs and script, she with artwork and story, and both with videography. The result is a seamless whole, with production elements all truly outstanding.
The utterly committed ensemble cast performs as if possessed by their characters, which are inspired by actual personages: Marcus Neville is Max (read Max Beckmann), Robert Petkoff is his friend Franz (read Franz Marc), Meghan McGeary is Hannah (read Hannah Hรถch), all artists, and Nancy Anderson is scientist Maria (read Marie Curie). Each — assisted by Jason Collins, Jamie LaVerdiere, and Eric Starker — performs with consummate skill. Some of what transpires is a bit tricky to follow, at least on first viewing, but the basics — the friendship of these four people between the years 1889 and 1955 in Berlin, Paris, and New York, along with the historical events — register vividly.
One quickly adjusts to the unusual musical palette, and the seven-piece band led by Mark Rubinstein provides a ravishing harmonic ambience. Throughout the evening, intriguing film segments — new and archival — are cleverly synchronized with the live action. Director-choreographer Will Pomerantz has provided countless arresting details in his finely polished staging. The audience is so drawn in that it ceases to clap for numbers midway through the second act, unwilling to break the exquisitely tragic mood.
The rarified subject matter may not be to everyone's taste, but adventurous theatregoers willing to surrender to the highly stylized and surreal presentation should be enthralled.
Presented by Prospect Theater Company in association with Flying Machine Productions
at the West End Theatre, 263 W. 86th St., NYC.
Feb. 4-March 2. Wed.-Sat., 8 p.m.; Sun., 3 p.m. (No performance Wed., Feb. 13; additional performance Sat., March 1, 3 p.m.)
(212) 352-3101 or (866) 811-4111 or www.theatermania.com or www.prospecttheater.org.