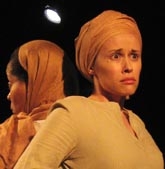 The inequalities laid bare during the current economic crisis in the United States are more than enough reason to prompt a revival of Brecht's social parable The Caucasian Chalk Circle. The Hipgnosis Theatre Company production employs a multiethnic cast of talented male and female actors to cleverly highlight issues of wealth, class, and property that continue to afflict our contemporary society.
Director Margot Newkirk has successfully negotiated the patchwork of scenes, stories, and plays within the play that can seem insurmountable to audiences experiencing Brecht's late work and simplified it as much as possible. The 13 members of the ensemble play more than 80 characters; dressed in loose-fitting, neutral-colored costumes, they can easily transform from royalty to peasant with the addition of a strategic piece of cloth or a prop. The Singer (Demetrios Bonaros) narrates the story troubadour style and is the thread that holds the two halves of the play together. Too bad Bonaros' original compositions couldn't have livened things up. As we learn of a coup and witness the tale of house servant Grusha (Rachel Tiemann) struggle with her decision to save a noblewoman's baby, Bonaros' singsong delivery becomes numbing. The ensemble of actors tries to enliven things by hamming up the broad comedy with anachronistic accents, but it's a long slog until the introduction of the wily Azdak in the second act.
Perhaps some would fault John Kevin Jones for stealing the show as Azdak, but he so embodies the rich character, drawing him out for laughs, that he makes one grateful for sticking around — although we can predict what's going to happen when Grusha and Natella Abashvilli (Ayanna Siverls) are tested with the chalk circle. And it's these final resounding moments — when we fully realize the sacrifices that the poor make for the greater good — that make the play a classic worthy of new analysis.
Presented by Hipgnosis Theatre Company
at the Theatres at 45 Bleecker, 45 Bleecker St., NYC.
April 26-May 11. Wed.-Sun., 7 p.m. (Additional performance Tue., April 29, 7 p.m.)
(212) 239-6200 or (800) 432-7250 or www.telecharge.com.