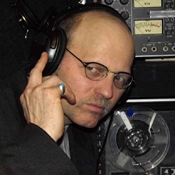 After a two-year hiatus, 29th Street Rep resumes its dedication to "brutal theatre" with this classic piece of Nixon-era paranoia, adapted by Kate Harris from the 1974 Francis Ford Coppola film. A low-key masterpiece produced between the decidedly high-key Godfather epics, The Conversation's claustrophobic world of bleak offices and lonely hotel rooms translates to the stage with barely a hitch.
David Mogentale plays Harry Caul, a surveillance expert who records a conversation between a young couple on a San Francisco street. Tortured by the moral implications of his work, Harry obsesses over an ambiguous statement on the tape that leads him to suspect a murder plot against the couple. From this suspense-thriller premise, the story proceeds along three distinct but intersecting tracks: the personal (Harry's mental anguish), the political (technology and the invasion of privacy), and the universal (the nature of perception). Harry's loneliness and guilt inform how he interprets the tape -- a perceptual mistake that doubles back on him with crushing irony.
Any stage adaptation of The Conversation faces the problem of how to create audience identification with a character as withdrawn and affectless as Harry Caul. Because the original film starred Gene Hackman -- a familiar and charismatic actor whom audiences tend to side with, even when he plays a jerk -- the character's emotional distance was fairly easy to bridge. Mogentale has to work harder to bring us into Harry's stunted emotional world, but if he feels the pressure, it doesn't show. A little off-putting at first, his performance sneaks up on you with a relentless, cumulative power.
Certain compromises are inevitable when translating from one medium to another, but I wish Harris and director Leo Farley had found a theatrical equivalent of the film's big shock scene, when Harry flushes a hotel-room toilet and it overflows with blood. (The incident is implied on stage, but not explicitly shown.) Still, the production pulls off a more impressive feat by capturing the film's airless and unsettling tone, as well as its moral and intellectual concerns, which I'm tempted to call profound.
Presented by and at 29th Street Rep,
212 W. 29th St., NYC.
April 10-May 4. Thu.-Mon., 8 p.m.
(212) 868-4444 or www.smarttix.com.